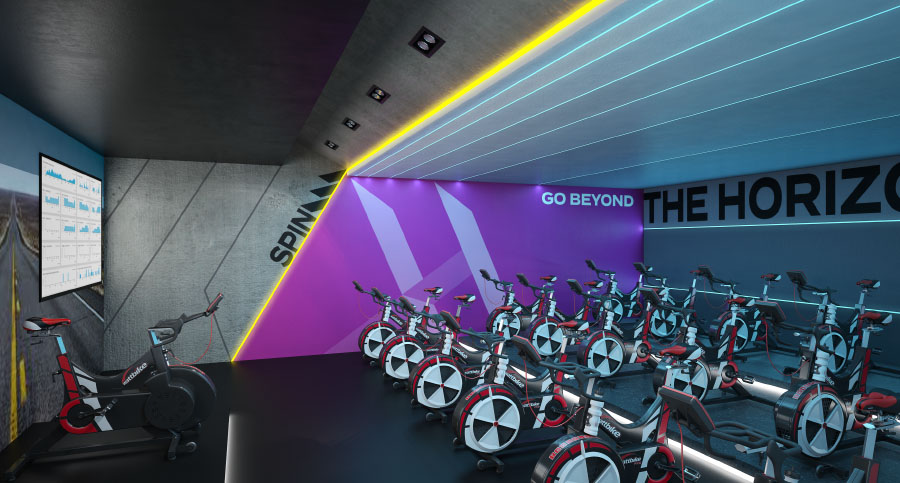 zynk design's partnership with Oman's leading health provider, Horizon Fitness, is entering its second phase. The team of interior architects are reviewing two new sites for a 20,000 sq ft and 50,000 sq ft health club design in the Arab state.
Located in the capital city of Muscat, both health clubs will deliver Horizon's successful low-cost gym concept, providing separate leisure facilities for male and female members, plus mixed facilities for the local expat community.
As well as translating the gym brand architecture throughout key touch points of the new health club design, zynk's expertise in spatial planning will configure exercise zones to accommodate the separate male and female facilities plus state-of-the-art fitness equipment.
Facilities are largely duplicated in both the male and female areas and include a swimming pool, spinning studio, functional training area, HiiT group exercise zone, holistic exercise studio, group exercise studio, resistance training area, cardiovascular equipment area, relaxation zone, supplement shop and juice bar. The male facilities will include additional areas for free weights and boxing.
Horizon is also creating a separate new women-only and men-only luxury boutique fitness brand. zynk is conceptualising the interior architecture and gym brand design for both sites.
zynk was first appointed by Horizon in 2019 to create a new brand architecture and gym design blueprint for a series of new builds that the leading health provider planned to open as part of a significant five-year expansion plan.
The first of Horizon's new sites opened last year in Barka. The xx sq ft health club design featured zynk's design blueprint throughout and internal spatial configuration for its men-only and women-only facilities.
zynk has worked in the health, wellness and leisure markets for more than 20 years. During this time, our team of specialist interior architects and designers have earned a reputation for creative design solutions that contribute to the successful operation and profitability of health, fitness and wellness venues. We have extensive experience in indoor cycling design, hotel leisure facilities design, gym design, boutique fitness studio design, hotel spa design, home gym design, HiiT Studio Design, fitness studio design, health club design and swimming pool design.
To read our latest news visit here.
For a free an informal chat about your project, contact zynk managing director and founder, Stavros Theodoulou on 07866556610 or email stavros@zynkdesign.com.