There are a plethora of layouts and interior design options to consider when designing a gym or wellbeing space, the best one for your project will depend on your target market and your service offering.
Whether you're exploring commercial gym design ideas or looking for inspiration for a wellbeing space, we've got you covered.
We've outlined the key elements for each of the following types of spaces along with a selection of case studies from our portfolio:
Functional strength training with free weights space
Interest in functional strength training has been on the increase over the years, especially in combination with free weights. In fact, it came in fourth on the ACSM's worldwide's most popular workout for 2022.
When it comes to incorporating this into your gym design, don't underestimate the space requirements for a free weights workout to be performed in a safe manner.
It is essential to use flooring that can take the impact of high-energy workouts to withstand potential heavy weights being dropped and not cause any major acoustic issues.
You can also integrate virtual systems into the space to allow for a defined audio and visual setup that adds a sense of energy to the space.
Inspired by The Lensbury's first-floor location, and backdrop of treetops from the stunning parkland around Teddington Lock, our hotel gym design ideas brought these outside elements inside using a contemporary theme that appeals to the Club's demographic.
Working closely with project manager Peter Woods, and equipment supplier Technogym, we re-designed the gym and equipment layout, configuring internal exercise zones to ensure a smooth and efficient customer journey.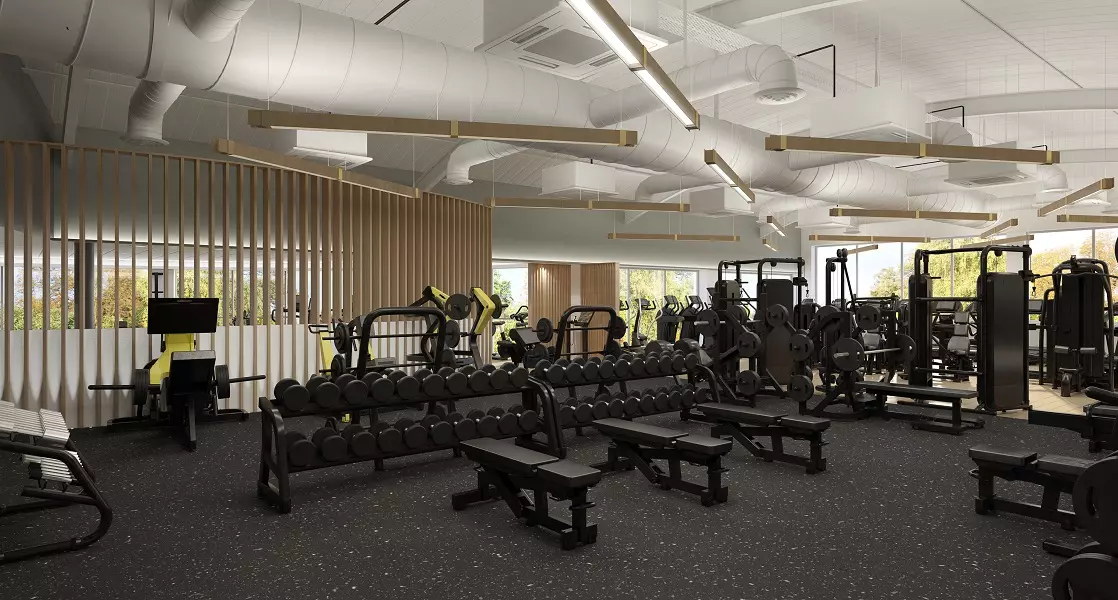 High-intensity interval training (HIIT) space
For this space, you need to consider the type of fitness equipment you need. Some gym equipment, such as Lat Pull Down Machines and Power Racks, can be relatively tall so ensuring the ceiling is high enough is crucial.
A high-intensity workout also requires enough space to ensure the activity can be done safely.
High-intensity interval training (HIIT) design example:
Digme
The brief for our Digme Fitness Cycling and HIIT training studios project was to create a portfolio of training studios offering clients a consistent brand experience and place Digme's trademark indoor cycling at the centre of the design and layout.
We worked with Digme's codified brand principles to create an exciting interior which engages and motivates participants.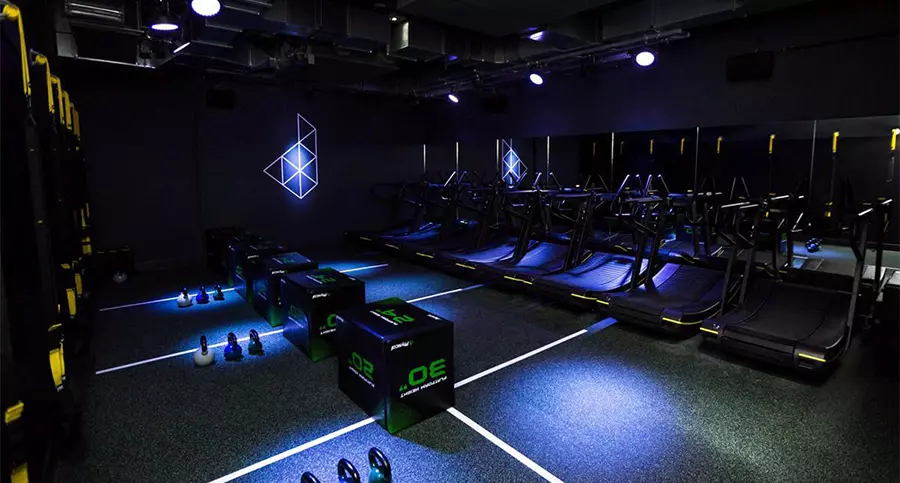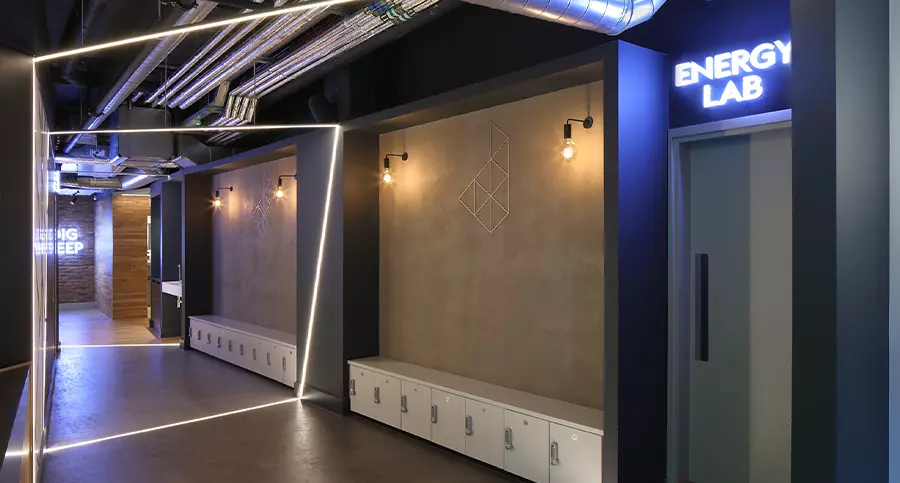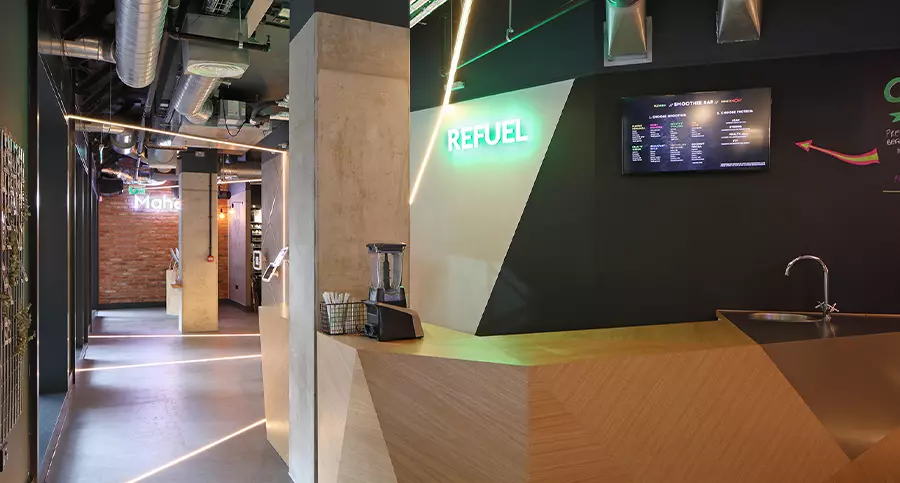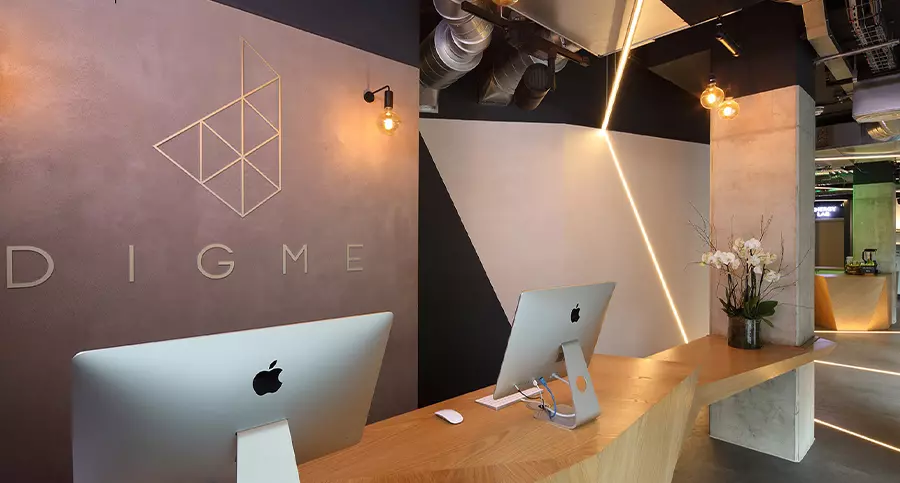 Traditional gym space
A more traditional gym set up incorporates space for cardio, resistance and free weights training. Similarly to both Functional strength training and HIIT spaces, ensuring high enough ceilings and sturdy floors is crucial.
Dynamic lighting and good mirror placement will help improve the ambience for a better user experience.
You will also need to ensure you have enough space to accommodate for the different areas. Take a look at our recent blog 'How much space will I need to build a gym for 1,500 members?' for more information.
Traditional gym design example:
The Hut Group
We have recently completed the design for e-commerce giant The Hut Group's executives and influencers gym
The 4,000 sq/ft space was designed to include a completely immersive experience that can morph from a cutting-edge workout space to a dynamic branded environment, with an AV system never seen before in a UK gym.
The Gym consists of multiple zones including Strength, Free weights, Cardio and Functional, with luxury changing rooms and accessible facilities.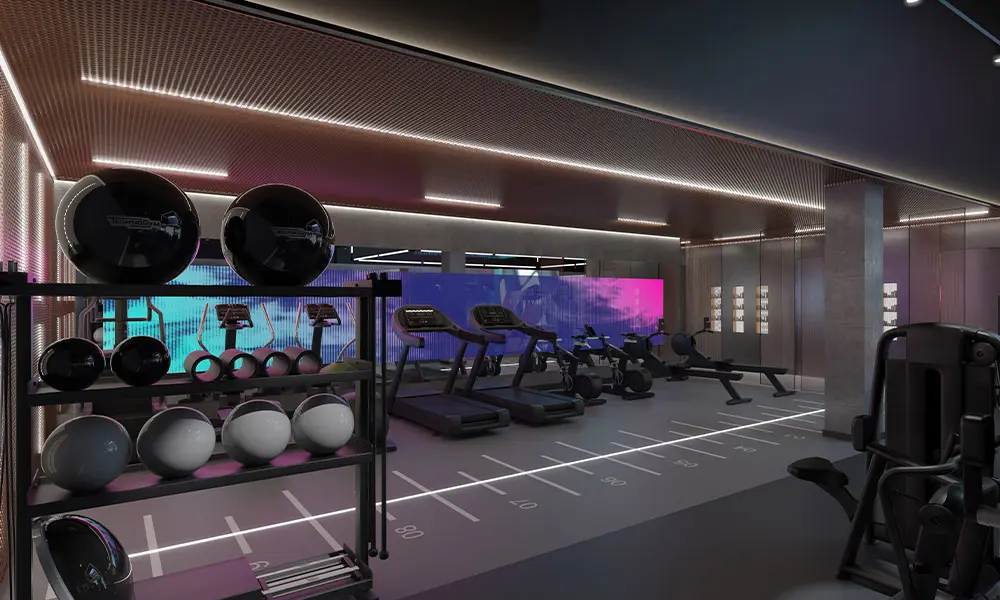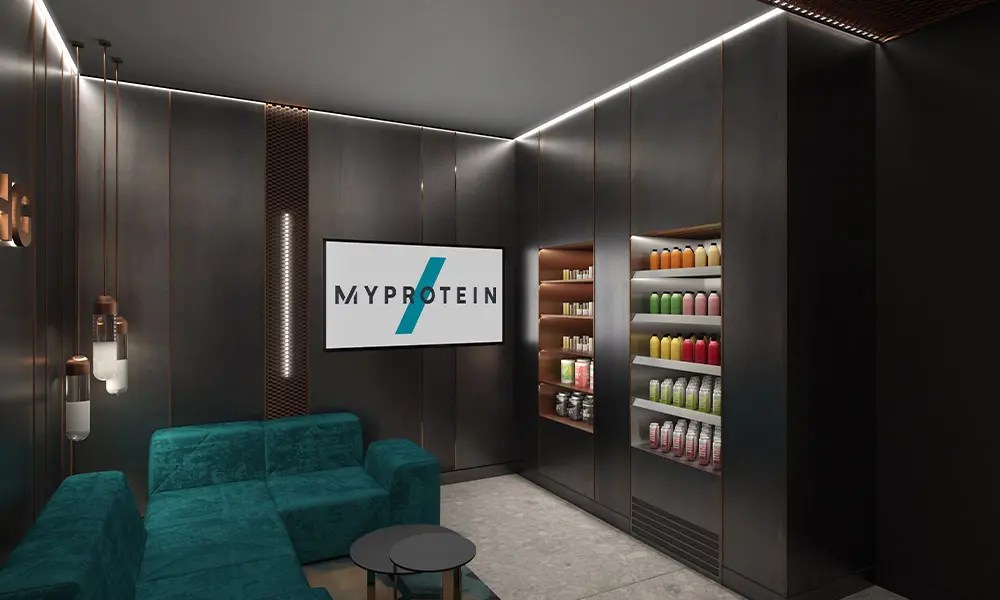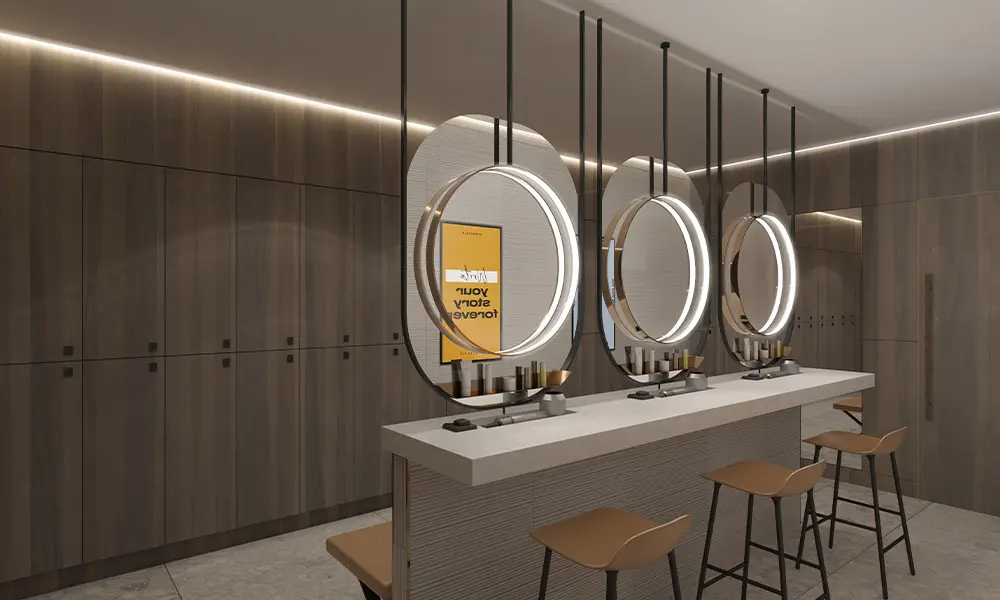 Wellbeing space
A wellbeing space is a great way to encourage a regular workout routine for people that prefer exercises like yoga, pilates or stretching. It should be designed in a way to include good storage options to ensure equipment, such as yoga mats, bolsters and blocks, are kept clear from the workout area.
Using natural light in the space can help our bodies produce Vitamin D, regulate sleep patterns and boost mood, while natural sounds, such as falling rain or ocean waves, can also be incorporated to create a relaxing environment.
Wellbeing design example:
Bezu
Working with the Bezu's new imagery and identity, we created a contemporary interior experience using light timbers, fluted glass and black metal finishes. The result is a space that is elegant yet energetic.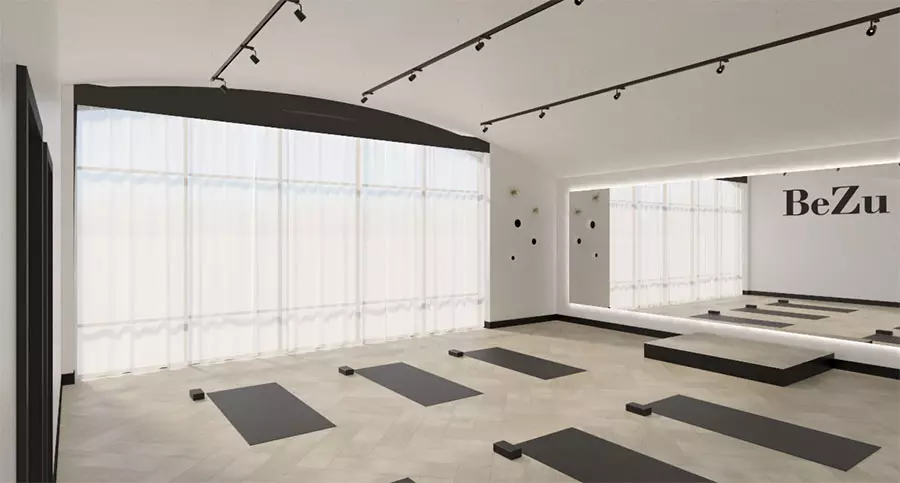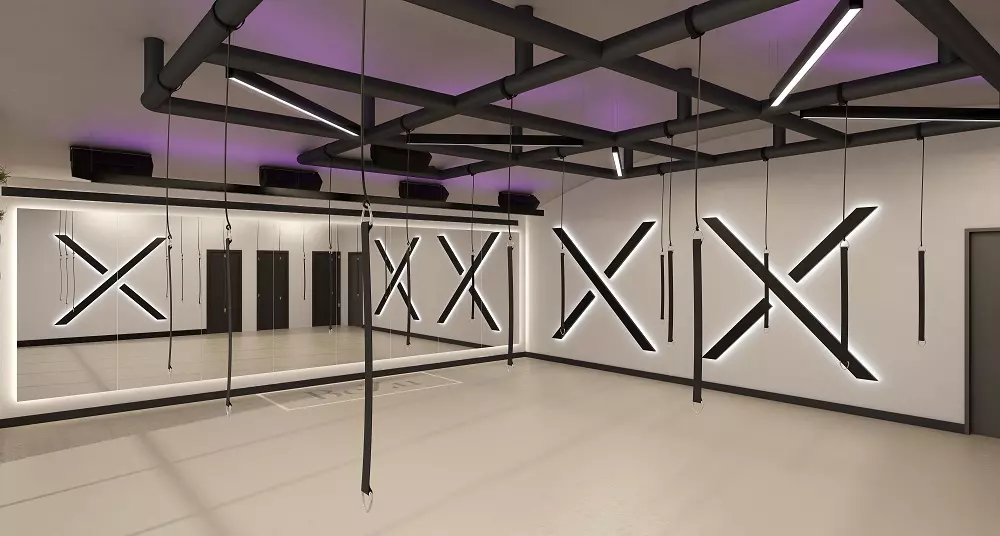 Wellbeing design example:
The Pavilion
The Pavilion has been designed to include a new gym with designated workout zones, two studios with on-demand virtual systems, a physiotherapy and treatment room and generous changing spaces.
Along with providing wellness strategy and consultation, we designed a space full of natural materials and textures, taking inspiration from the pavilion's natural setting and the Surrey landscape.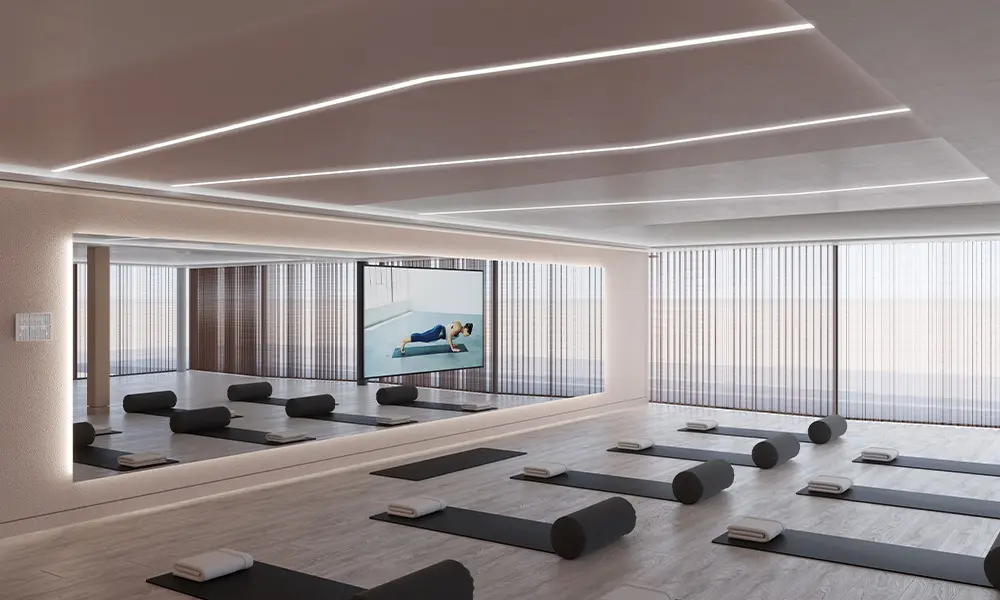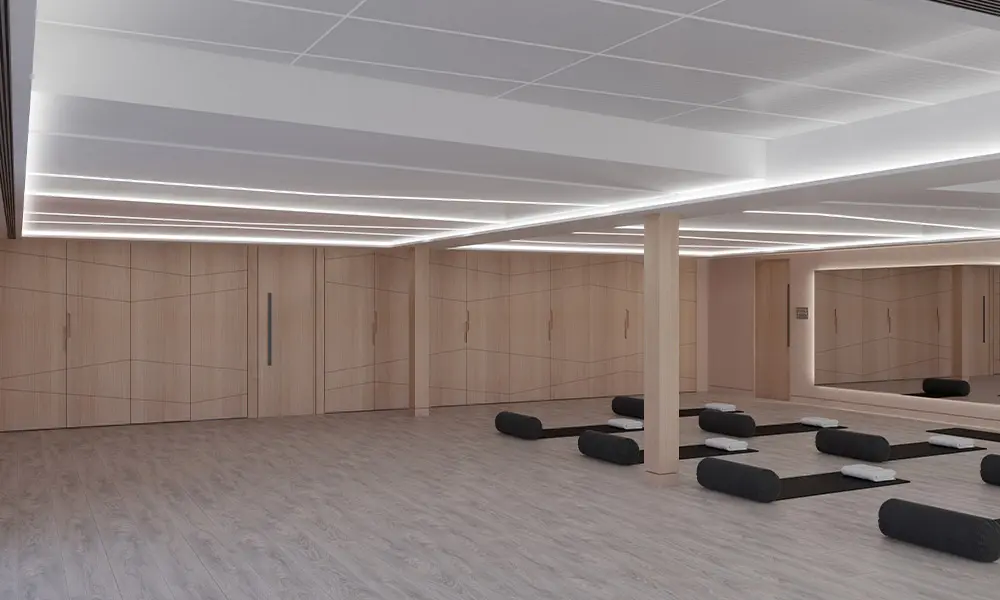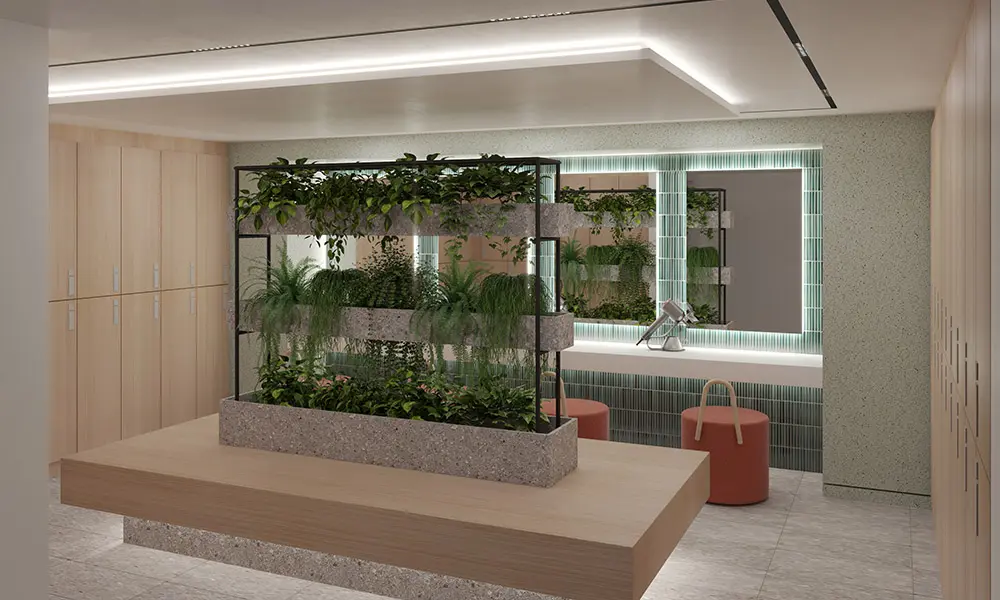 Spa space
When it comes to spa architecture design, there are a number of different types of spa spaces to choose from, including saunas, steam rooms and thermal heat spaces, to name a few.
Experiences like halotherapy, which involves breathing in salty air for the added health benefits in a salt-steam room or salt-cave, are particularly popular.
Visual elements can be used to evoke an emotional and behavioural response. Integrating biophilic design elements, such as natural colours, textures and plants, will further help reduce stress and improve wellbeing.
We transformed a 1500 sq ft labyrinth of underground corridors, with exposed brick walls and vaults, into a futuristic health and wellness venue comprising six treatment rooms that house some of the world's most pioneering treatments.
BelleCell asked for an interior to reflect its revolutionary treatments and allow clientele to escape their busy lifestyles.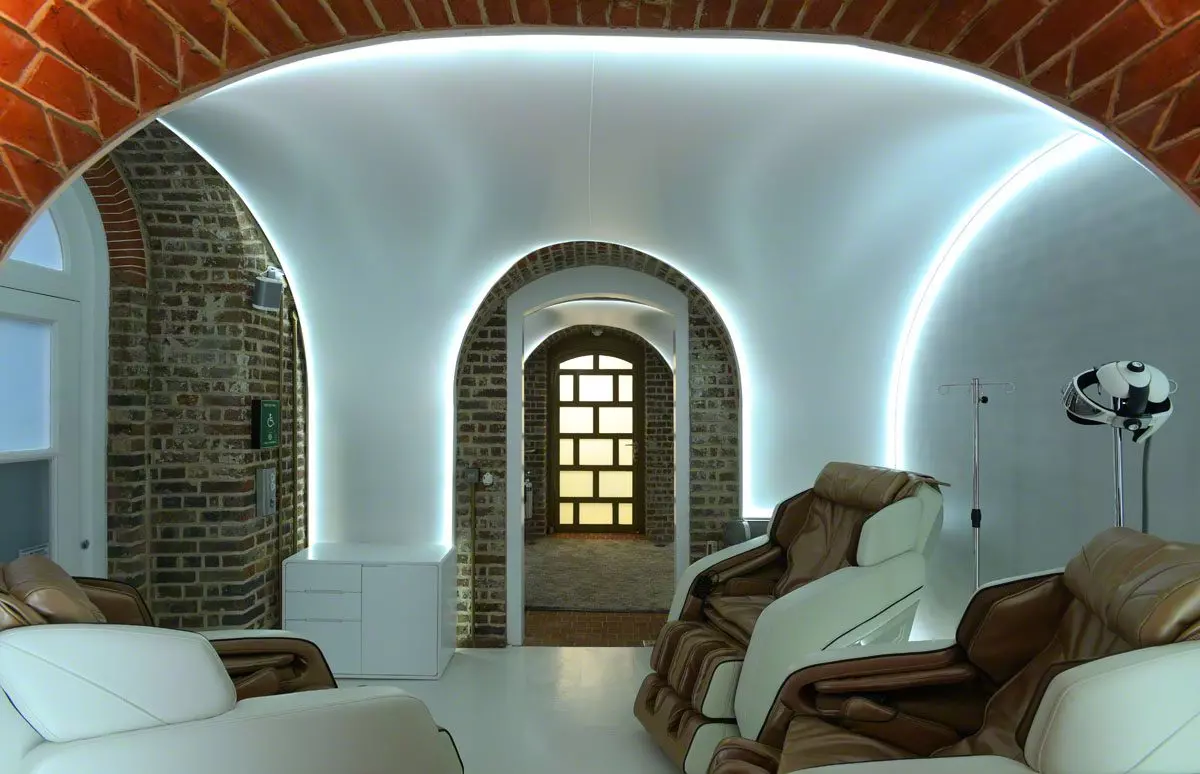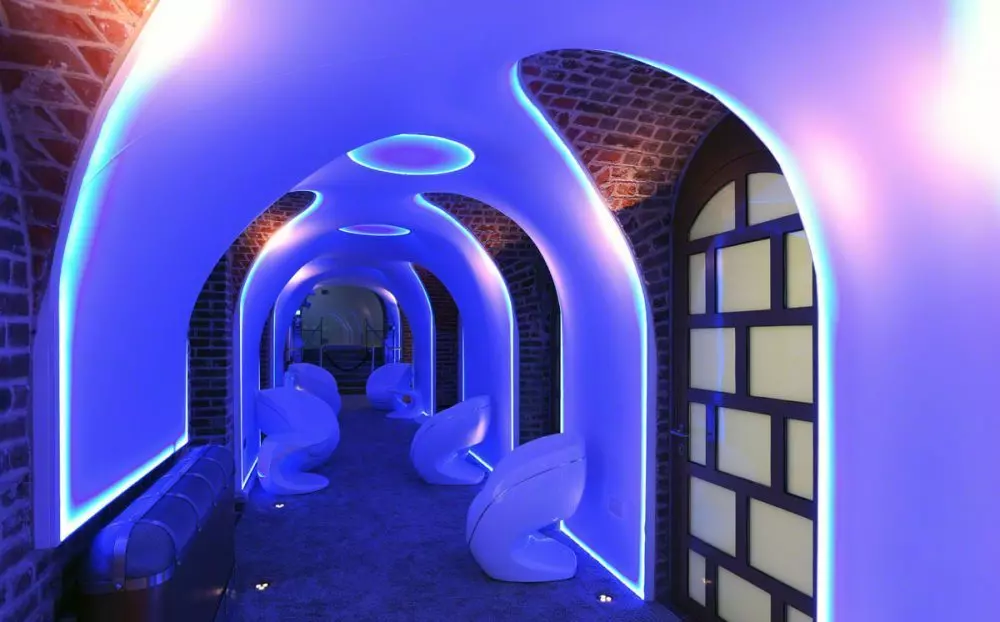 zynk Design: luxury gym, health and wellbeing design
We're specialist gym, wellness and spa design experts with over two decades of experience in the health and fitness industry.
We offer interior architecture, graphic design and fitness operation consultancy services to ensure thorough support through every stage of a project – from concept to execution. It doesn't matter how big or small your project is, we can work with any space and apply creative design solutions that work visually and operationally.
We've got a track record of creating successful health, fitness and spa ventures through intelligent, multi-disciplined design solutions that connect brands with people. Take a look at our health and fitness designs for inspiration or book a consultation to discuss your project.