When building a gym facility it's essential for you to think about the different areas that you're going to include in your design early on in the planning process. This will determine how much space is required and the type of gym layout design that will work best for you.
If you're thinking about opening a gym, knowing your target market and having a clear understanding of your service offering will enable you to decide which types of gym facilities you need to factor into your designs.
We've outlined 5 gym facilities examples below for your consideration:
1. Traditional gym spaces
This is a no-brainer if you're designing a traditional gym, incorporating space for cardio equipment and weight machines such as the following:
Stair climber

Treadmill

Exercise bike

Rowing machine

Smith machine

Cable lat pulldown

Seated overhead press
Having high enough ceilings and sturdy floors will be crucial for ensuring the space is suitable for the intended use.
There's a plethora of fitness machines available and whilst you want to provide a diverse mix for your clients, you don't want to overcrowd your space, making it difficult to navigate and unsafe to use. You'll want to think about which equipment will be best suited for your members. It's far better to have fewer options with more room to manoeuvre around.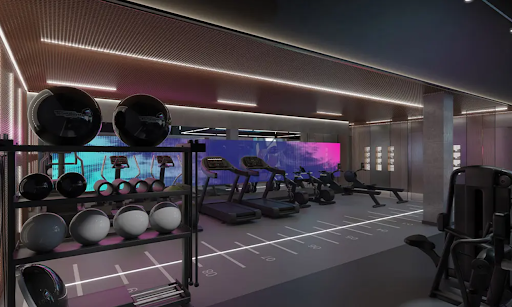 Traditional gym design example: The Hut Group
2. Functional strength training with
free weights
More and more people are incorporating functional strength training into their workouts, particularly in combination with free weights, with functional strength training coming fourth on the ACSM's worldwide's most popular workouts for 2022.
Functional strength training includes exercises such as:
Jumping

Stepping onto elevated surfaces

Squats

Push-ups

Walking lunges
These types of exercises along with the use of free weights will require sufficient floor space for workouts to be performed safely and for weights to be stored, so don't underestimate the space that you'll need to allocate.
Furthermore, it is essential to use appropriate flooring that can withstand the impact of high-energy workouts and heavy weights potentially being dropped.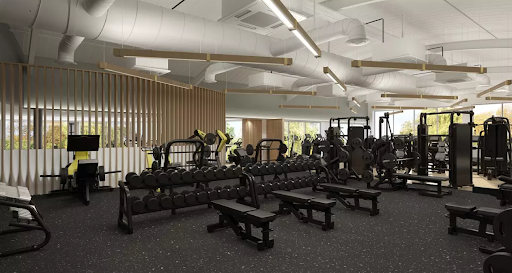 Functional strength training design example: The Lensbury Healthclub
3. High-intensity interval training (HIIIT) space
If your target market includes working professionals with busy schedules, HIIT training can be a perfect offering as it's fast and won't take up too much time, but will still deliver results. It's also a great way to reduce stress as it requires a lot of concentration to maintain the high-intensity levels which distract the brain from worrying, great for those with high-pressure jobs.
HIIT training requires plenty of floor space to ensure movements can be done in a safe manner. Equipment such as Lat Pull Down Machines and Power Racks can be rather tall, so you will need to make sure that your ceilings are high enough.
Incorporating dynamic lighting and good mirror placement can have a motivational effect on users and provide a better user experience.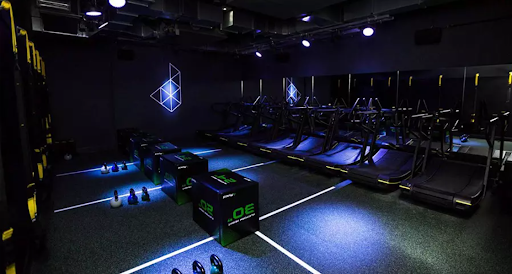 High-intensity interval training (HIIT) design example: Digme
4. Wellbeing space
In our post-pandemic climate, we've seen a shift in people's priorities, with many placing greater emphasis on investing in their well-being. Research from a Mckinsey study found that 79% of the 7,500 people surveyed believe that wellness is important and 42% consider it a top priority. Factoring in space for holistic exercise classes such as pilates, yoga and stretching is therefore a good area to consider adding to your gym facilities list in the planning stage.
This type of area will require good storage options to store yoga mats, bolsters, blocks etc to keep the workout area clear.
It will be important to combine form and function in this space to create the right environment for workouts that promote an awareness of the body and mind. Ensuring there's plenty of natural light in the space, with a neutral colour palette, and even calming music, will create a relaxing environment and provide a sense of balance and harmony within the space.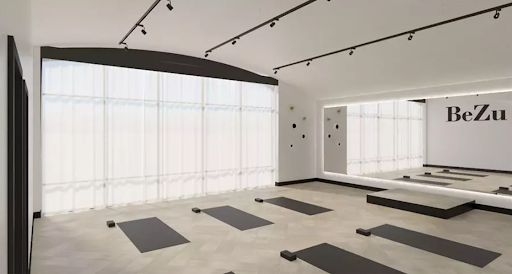 Wellbeing design example: Bezu
5. Personal training
Personal training came in at number 6 in the ACMS's report for fitness trends in 2022 which is a clear indication that facilitating the space for personal trainers to work with clients in your space is well worth it.
You'll want to consider providing office space for personal trainers to sit down with clients regularly to discuss their fitness goals and progression. Some gyms offer private rooms/spaces with gym equipment for one-to-one personal training sessions.
zynk Design: luxury gym, health and wellbeing design
We're specialist gym, wellness and spa design experts with over two decades of experience in the health and fitness industry.
We offer interior architecture, graphic design and fitness operation consultancy services to ensure thorough support through every stage of a project – from concept to execution. It doesn't matter how big or small your project is, we can work with any space and apply creative design solutions that work visually and operationally.
We've got a track record of creating successful health, fitness and spa ventures through intelligent, multi-disciplined design solutions that connect brands with people. Take a look at our health and fitness designs for inspiration or book a consultation to discuss your project.