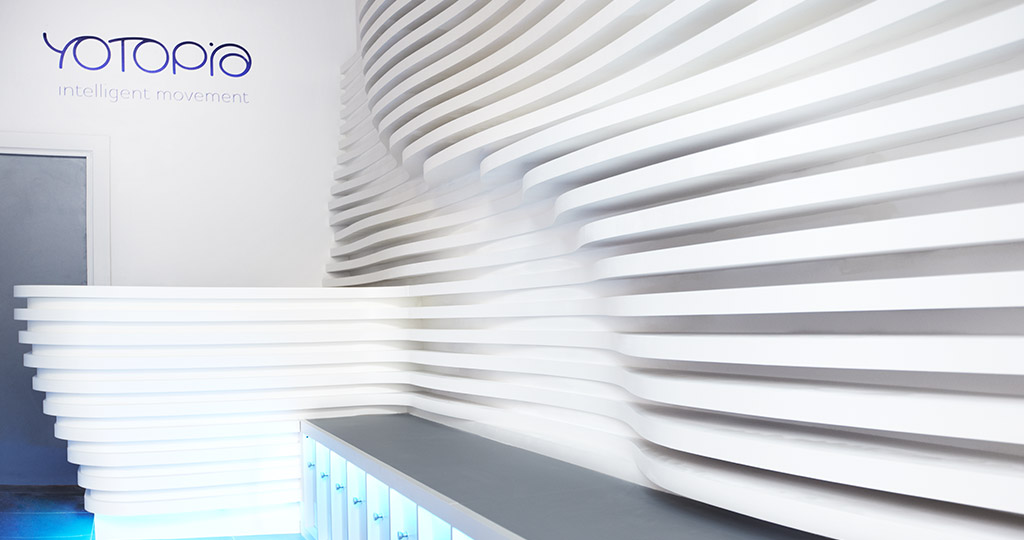 zynk's team of hot yoga studio architects were appointed to design the interior of a Hot Yoga Studio called Yotopia, where classes were performed at 40 degrees plus temperature.
Inspired by the ancient style of yoga and its flowing movements, zynk avoided all the standard yoga metaphors to establish a totally unique look that created a clear point of difference for the brand within the market.
As soon as participants arrived, they were met with beautiful sweeping curves which guided them to the meet and greet point. Subtle references to the fluidity associated with this popular form of holistic exercise could also be seen throughout the venue both in design elements and chosen materials.
Lisa Campbell, owner of Yutopia says, "Zynk are a pleasure to work with, they worked diligently and patiently with me, many times revising plans to support my budget and aesthetic demands. Their design supported my own expectations and that of the business. I would thoroughly recommend them."
zynk has more than 20 years' experience transforming interior spaces into inspiring, engaging and functional venues. Our team of talented interior architects and designers use physical space, creative graphics, carefully chosen materials and bespoke fixtures, fittings and lighting designs to bring brands to life.
From raw concept through to project realisation, the zynk team has delivered exceptional design projects in gym design, hot yoga studio architects, hotel spa design, hotel interior design, luxury health club design, HiiT Studio Design, indoor cycling studio design and restaurant design. See examples of our work here.
Read our latest news here.
Contact zynk managing director and founder, Stavros Theodoulou on 07866556610 or email stavros@zynkdesign.com.