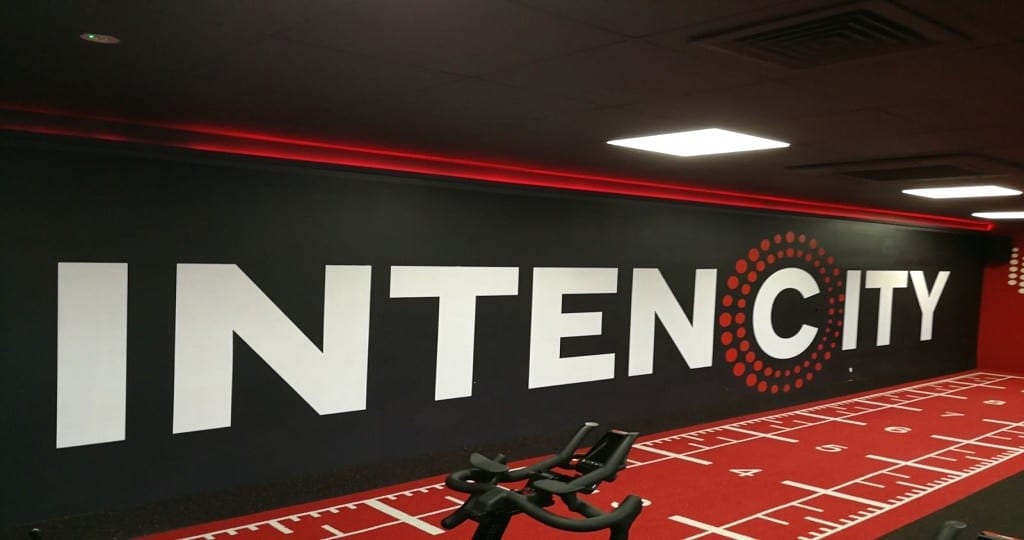 zynk Design has completed the creation of its third INTENCITY HIIt training studio design for Fusion Lifestyle, which has just opened its doors at Park Road Pools and Fitness, Haringey.
Sitting within the original, traditional gym area, zynk was briefed by Fusion to transform an existing studio into a dedicated, multi-functional training zone which is designed to give users access to a boutique fitness experience.
zynk creatively utilised the brand's distinctive red and black aesthetics to create separate exercising zones within the 100sqm (328sqft) area. This enabled zynk to maximise spatial and commercial potential, generating enough capacity to host five classes of different exercise genres, with up to 16 participants in each.
The studio has opened with 30 different high intensity classes each week and aims to increase this to 60 over a phased period. With each INTENCITY class requiring different equipment, zynk worked hard with the space to create easily accessible and safe spaces for kit to be stored in-between classes.
Synergy between the old and new gym elements has been achieved by utilising the studio's existing large window, which provides natural light and enables members to see classes in action. Innovative planning has also created a dedicated studio entrance which provides a cohesive route for students moving in between classes and during waiting times.
The striking and distinctive red and black aesthetics of the INTENCITY studio takes its cue from the brand's concept which centres around participants using their own heart monitors to track effort during each class, with red indicating the maximum amount of effort possible.
"We are delighted that the studio creates a striking focal point within the existing gym and effectively communicates to members that they can expect a different training experience with INTENCITY," explains Darren Anderson, Group Fitness Manager. "As part of the brief, zynk has also future proofed our brand identity by subtly evolving it without moving away from its core values."
zynk has designed two previous INTENCITY HIIT Training studio designs for Fusion Lifestyle situated at Southgate Leisure Centre N14 and Robinson's Pools and Fitness, Bedford.
zynk has more than 20 years' experience transforming interior spaces into inspiring, engaging and functional venues. Our team of talented interior architects and designers use physical space, creative graphics, carefully chosen materials and bespoke fixtures, fittings and lighting designs to bring brands to life.
From raw concept through to project realisation, the zynk team has delivered exceptional design projects in gym design, hotel leisure facilities design, hotel spa design, hotel interior design, luxury health club design, HiiT Studio Design, indoor cycling studio design and restaurant design. See examples of our work here.
Read our latest news here.
Contact zynk managing director and founder, Stavros Theodoulou on 07866556610 or email stavros@zynkdesign.com.