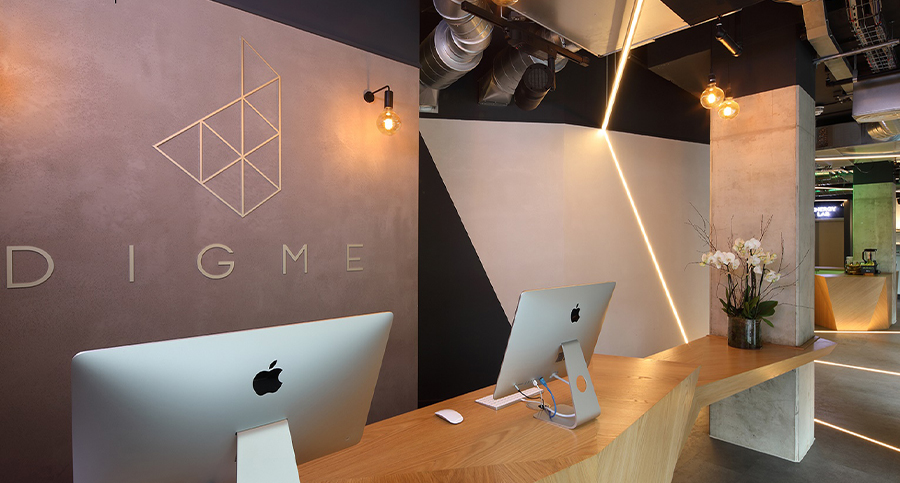 zynk Design is the interior architect and design partner for Digme Fitness' and created the interior for its Oxford Site. Digme's signature indoor cycling studio design and HIIT Studio concept has proved extremely popular since its launch and the brand continues its expansion programme.
zynk continues as Digme's partner responsible for the configuration of its internal exercise zones which include the Arena, the central indoor cycling area, plus studios for Yoga, HIIT training and fusion exercise classes. The sites also have Refuel bars, changing rooms, rest rooms and retail space.
zynk recently completed the interior architecture and design for Digme's Rathbone place site. Read more about the project here.
zynk has more than 20 years' experience transforming interior spaces into inspiring, engaging and functional venues. Our team of talented interior architects and designers use physical space, creative graphics, carefully chosen materials and bespoke fixtures, fittings and lighting designs to bring brands to life.
From raw concept through to project realisation, the zynk team has delivered exceptional design projects in gym design, hotel leisure facilities design, hotel spa design, hotel interior design, luxury health club design, HiiT Studio Design, cycling studio design and restaurant design. See examples of our work here.
Read our latest news here.
Contact zynk managing director and founder, Stavros Theodoulou on 07866556610 or email stavros@zynkdesign.com.