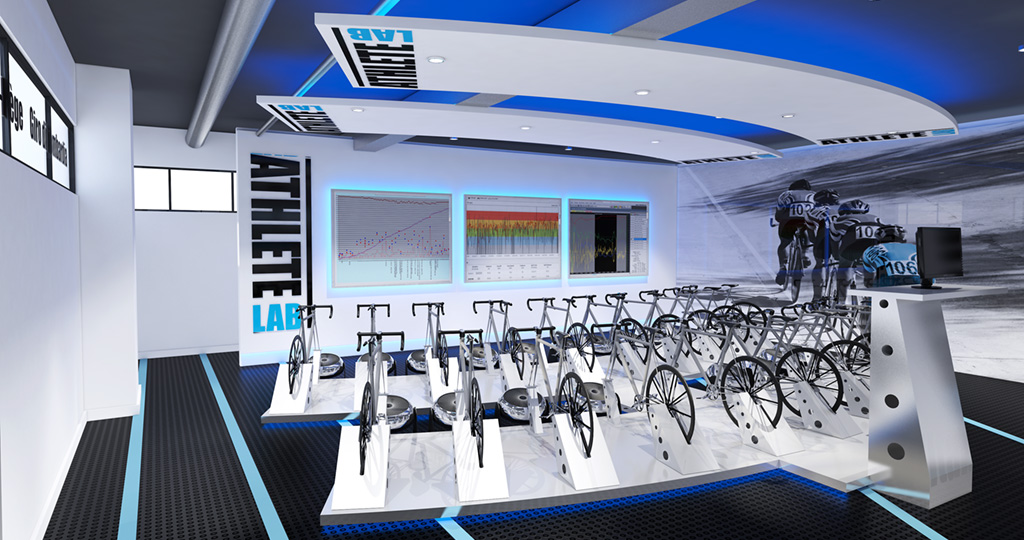 zynk handled the indoor cycling studio architecture for the first real bike training facility in London called Athlete Lab.
Athlete Lab is a place for triathletes and cycling enthusiasts to come and benefit from expert coaching and bespoke training schedules. Participants use real bikes with Shimano group sets and built-in power metres which enable coaches to create bespoke training sessions. Every race is recorded and coaches provide vital feedback to riders so they can improve time and stamina.
Before coming to the UK, the brand already had successful operations in Sydney and Singapore. The first UK venue was located in the City and comprises two studios and 30 bikes. Athlete Lab hopes to expand across the Capital with more venues.
zynk has more than 20 years' experience transforming interior spaces into inspiring, engaging and functional venues. Our team of talented interior architects and designers use physical space, creative graphics, carefully chosen materials and bespoke fixtures, fittings and lighting designs to bring brands to life.
From raw concept through to project realisation, the zynk team has delivered exceptional design projects in gym design, hotel leisure facilities design, hotel spa design, hotel interior design, luxury health club design, HiiT Studio Design, indoor cycling studio design and restaurant design. See examples of our work here.
Read our latest news here.
Contact zynk managing director and founder, Stavros Theodoulou on 07866556610 or email stavros@zynkdesign.com.