There's no question that the pandemic has changed how we work. Remote and hybrid work methods aside, The Great Resignation has caused issues for many employers with 3.2% of the UK workforce quitting their jobs in search of a company that shows greater concern for employee wellbeing at work.
The correlation between the pandemic and this sudden resignation en masse is clear: people are no longer prepared to let their health be affected by their job. Pre-pandemic many of us may have taken our mental and physical health for granted. Covid showed us that we shouldn't.
Employees want to work in an environment that doesn't cause their stress levels to skyrocket and their energy levels and productivity to plummet. How can employers shift their focus and create a company culture that aligns with what employees actually want?
How employers can respond to employee wellbeing through design
Office design and employee wellbeing are closely related with a staggering 88% of people stating that their working environment is not very motivating.
A design-led focus on wellness to promote employee wellbeing is therefore crucial. But this goes beyond ergonomic office furniture. It's also about improving employee wellbeing at work by encouraging movement and physical activity.
And as more and more people respond to a post-pandemic world by increasing their activity levels and desire for a healthier way of life, installing health and wellness facilities, such as a a gym, meditation room, or yoga studio, is key to retaining employees and attracting top talent.
A well designed space for the improvement of mind and body sets you apart as an employer. It improves your brand perception and makes you a desirable place to work. And of course, we all know that there's a direct link between better health, greater productivity and enhanced employee performance.
A design focus on corporate wellness facilities
There are a number of ways design can help reduce stress and enhance productivity, for example:
1. Biophilic design
Biophilic design has been shown to reduce stress and anxiety in humans and it is clear that our surroundings have an impact on the way we feel and our productivity levels. Taking a look at how your office design can positively impact your employee wellbeing is a great start: adding plants, opening up dark or cramped spaces, and thinking about the use of materials for example.
Let's say you were to create a corporate meditation or yoga studio and you want your employees to feel calm and relaxed whilst using it. Opting for natural materials, such as timber and bamboo, would imbue the space with a sense of serenity and help people feel grounded.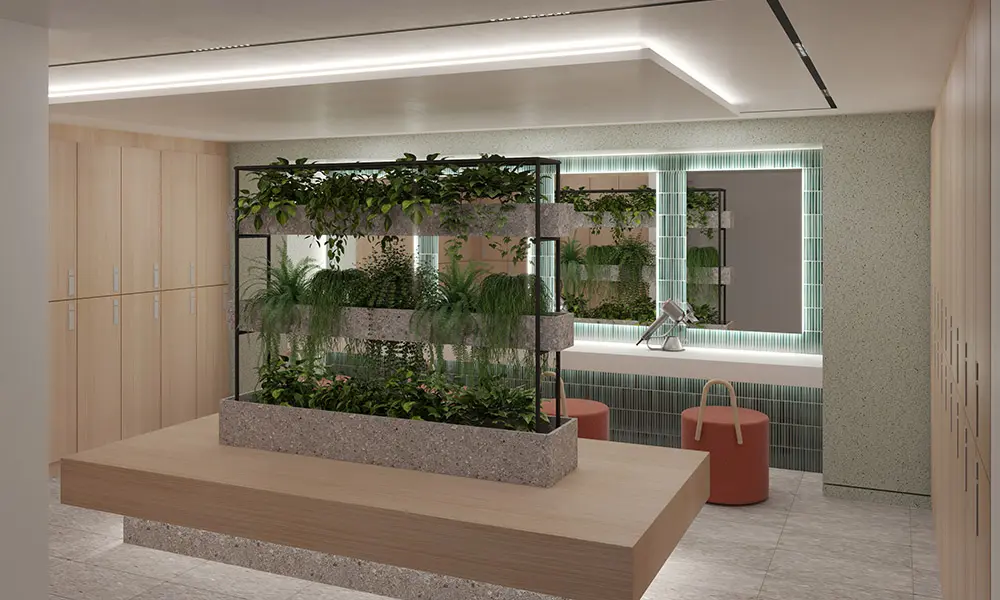 2. Colour palette
Choosing your colour palette carefully is another crucial element of making sure that the design of your workout space is aligned with your goals. Take our previous example of a meditation or yoga room. You would probably want to opt for calming hues such as pale pink or lilac or a muted moss green or powder blue.
But if your aim is to increase employee wellbeing in the workplace by getting your employees pumped for the day, we recommend opting for energising colours in an on-site gym.
Think bright yellow accents, hot purples, powerful reds, or zesty lime greens.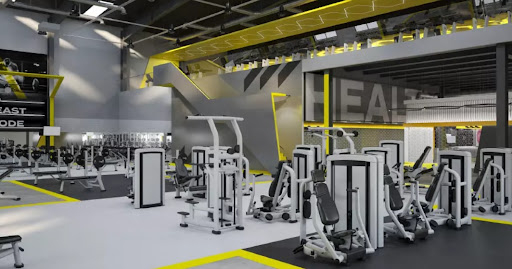 3. Sensory design
Sensory design elements place a 360 degree focus on employee wellbeing. They include factors such as lighting, sound, and even smells. For example, implementing a surround sound system to help people forget their stresses and feel fully immersed in the moment is a great way to help them step away from a problem, refocus, and then return to work feeling energised and inspired.
Cinematic visuals can also be incorporated using floor to ceiling LCD screens to depict anything from a tropical beach to outer space to a buzzing cityscape. As a backdrop to yoga, meditation, or high intensity workouts, this will work to further create this sense of immersion and will positively impact workplace employee wellbeing.
You can also use screens to visualise company branding, goals, visions or even promos. This will add extra authority to your marketing strategy, whether that's a photoshoot for your corporate brochure, a recruitment video, or a backdrop for your influencer partners.

zynk can help you
improve employee wellbeing
We can help you make your company a healthier and more desirable place to work by using fitness and design to promote employee wellbeing.
Take a look at our recent health and fitness projects for some inspiration and be sure to sign up to our newsletter for regular wellness design updates below.