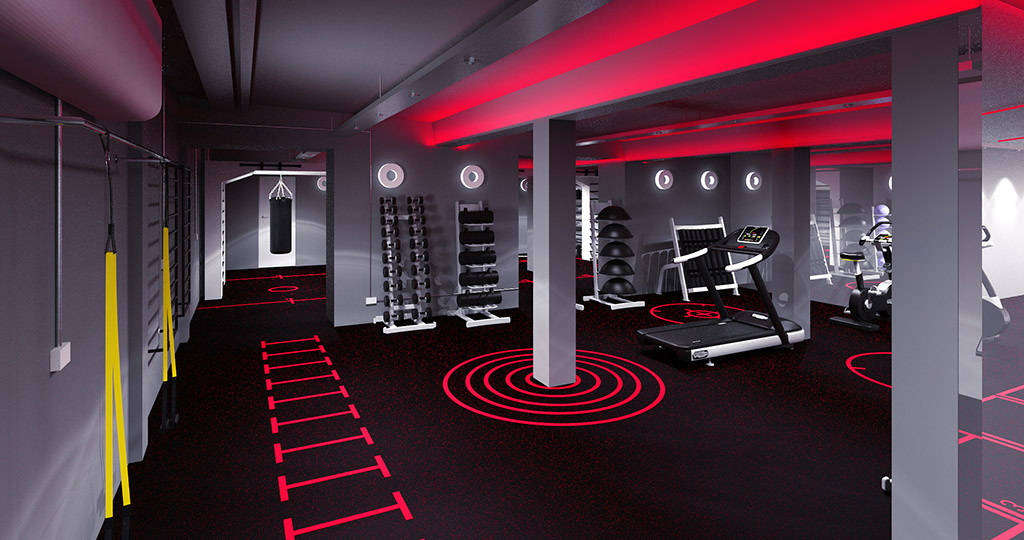 zynk Design worked with the team at Fusion Lifestyle to create an interior personality for its first HIIT training studio design called Intencity.
Located within local authority run Southgate Leisure, Intencity delivers a completely different exercise experience to the traditional class programme. To make this point of difference within the leisure centre design, zynk was asked to design an interior personality that communicated this.
Intencity is an innovative concept in High Intensity Interval Training (HIIT). Each Intencity session comprises 30 minutes of training and a choice of 5 different class structures. During each class, participants track their heart rates via a chest monitor and aim to push into the monitor's Red Zone, increasing their heart rates around 80-100% for each session.
zynk took this unique brand proposition and used it to create a high-energy interior personality. Floor markings, equipment layout and bespoke lighting design were used to zone parts of the studio. The location of equipment also played an important role in maximising the space and ensuring members moved around the different exercise stations efficiently and safely.
Each studio has a variety of equipment to support every class, however, not all equipment is used each time. zynk had to consider the class programming and calculate the correct amount of storage space to ensure the operational flow was smooth and equipment was safely stored.
zynk continues to work with Fusion Lifestyle on the creation of its Intencity HIIT Training Studio designs.
zynk has more than 20 years' experience transforming interior spaces into inspiring, engaging and functional venues. Our team of talented interior architects and designers use physical space, creative graphics, carefully chosen materials and bespoke fixtures, fittings and lighting designs to bring brands to life.
From raw concept through to project realisation, the zynk team has delivered exceptional design projects in gym design, hotel leisure facilities design, hotel spa design, hotel interior design, luxury health club design, HiiT Studio Design, indoor cycling studio design and restaurant design. See examples of our work here.
Read our latest news here.
Contact zynk managing director and founder, Stavros Theodoulou on 07866556610 or email stavros@zynkdesign.com.