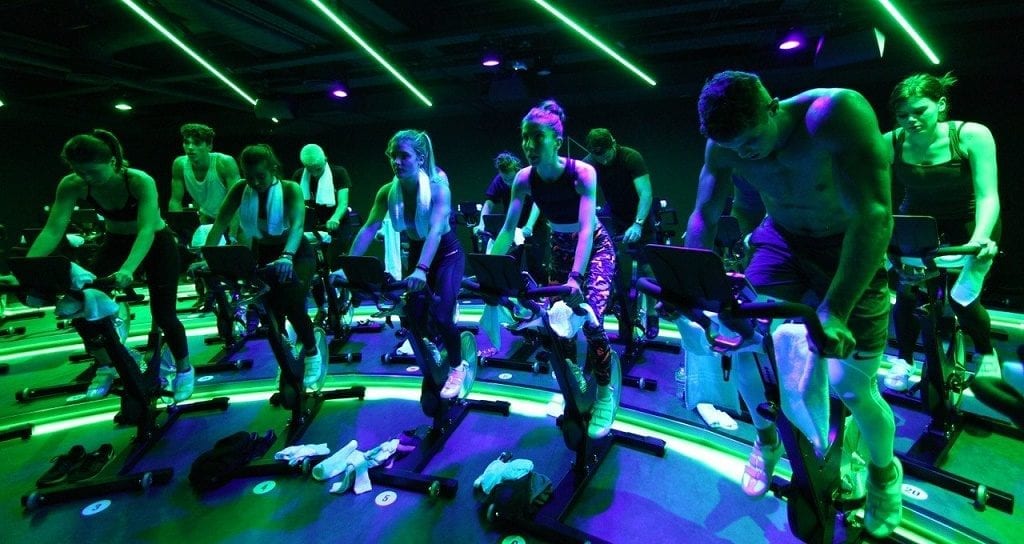 Digme Fitness is working with zynk design to handle the interior architecture for its flagship boutique studio at Rathbone Place, the prestigious new development on the site of London's former Post Office Warehouse, just north of Oxford Street.
The new 4500 sq ft studio, Digme's fifth site to date, will deliver the brand's customised HIIT and indoor cycling classes in an exciting studio concept which has been designed by zynk. An industrial chic theme will echo throughout the building connecting it to its iconic industrial past, while appealing to Rathbone Square's calibre of residents and business lets.
Concrete render is being used to provide an industrial canvas, while brass marquetry, exposed brickwork and timber are set to create a raw undertone. Linear recessed lighting will seamlessly wrap around the studio and play an important part in creating an exciting ambience for users.
zynk has configured the internal space to accommodate a 60-bike indoor cycling studio, with a tiered formation for ultimate user experience, and HIIT training zones which can seamlessly rotate participants through three exercise principles; Run, Condition and Move. There will also be a collection of 14 luxury unisex changing pods, complete with showers and hair grooming equipment, to accommodate the fluctuation in gender preferences for different classes.
Geoff Bamber, CEO of Digme Fitness says: "This site is an exciting venue for the brand, so we have been determined to create a studio that reflects this. The relatively conservative footprint that our studios operate in means we need the skill and experience of zynk to ensure we can maximise the space from an operational and commercial aspect.
"zynk has also taken our new codified brand principles and created an exciting studio concept which, together with our own commitment to delivering the best classes in town, will inspire members to work out and achieve great results."
In addition to the 242,800 sq ft of Grade A office space let to Facebook, Rathbone Square will also provide 142 private residential apartments, cafes, bars and retail units. It runs roughly north-west from Oxford Street to Percy Street.
This is the fifth studio zynk has designed for Digme Fitness, following Richmond, Oxford, Moorgate and Blackfriars.
zynk has more than 20 years' experience transforming interior spaces into inspiring, engaging and functional venues. Our team of talented interior architects and designers use physical space, creative graphics, carefully chosen materials and bespoke fixtures, fittings and lighting designs to bring brands to life.
From raw concept through to project realisation, the zynk team has delivered exceptional design projects in gym design, hotel leisure facilities design, hotel spa design, home gym design, health club design, HiiT Studio Design, indoor cycling studio design, boutique studio architecture and restaurant design. See examples of our work here.
Read our latest news here.
Contact zynk managing director and founder, Stavros Theodoulou on 07866556610 or email stavros@zynkdesign.com.