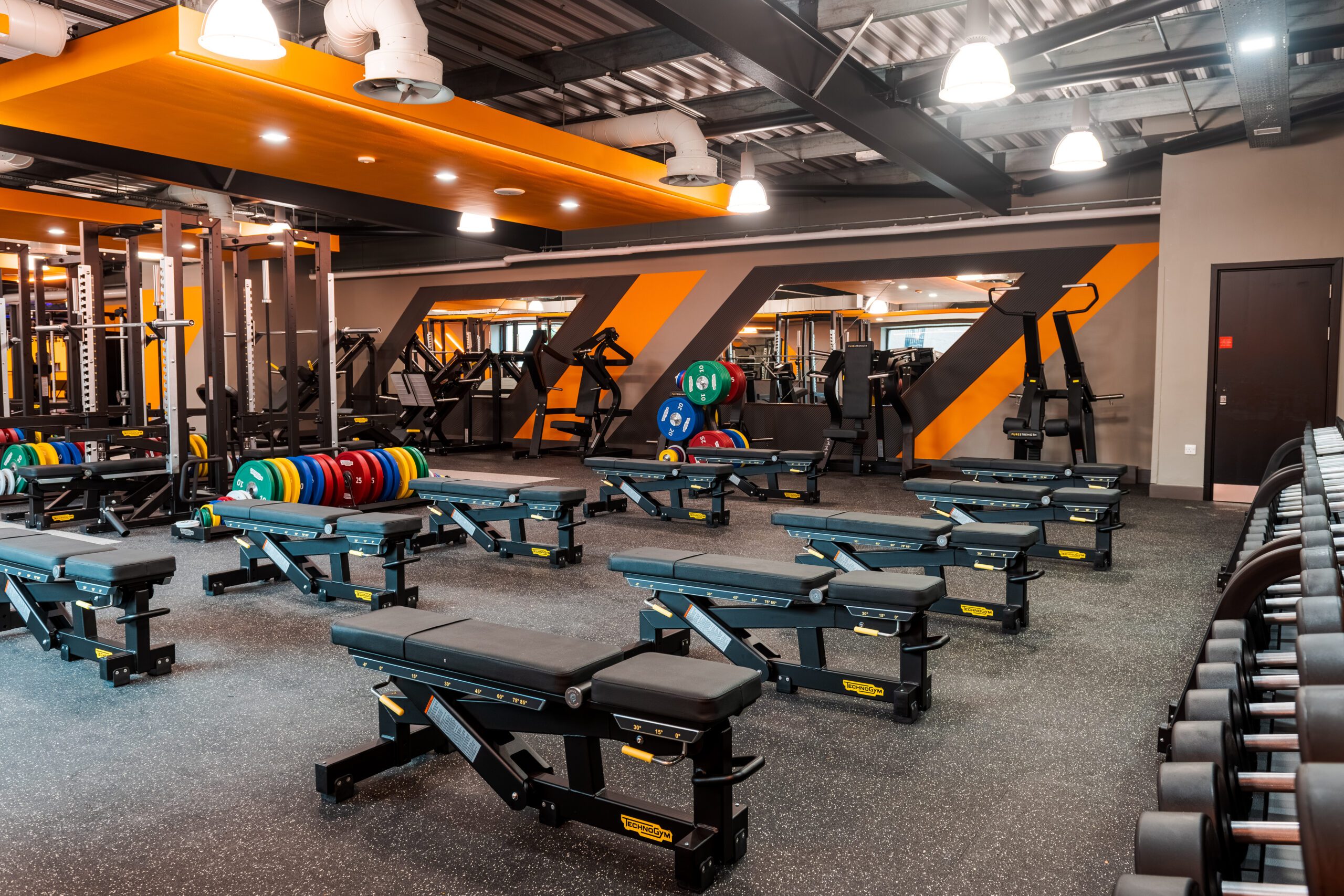 zynk Design was appointed to partner with the University of Leeds alongside Technogym in 2022. The brief was to deliver an outstanding new offering to existing and new members at "The Edge", the University'sflagship sports, fitness and activity centre with more than 12,000sq ft of fitness facilities and studios.
After conducting market research and receiving feedback from existing members, a lack of personality, vibrancy and energy, as well as a distinct lack of connection between the reception, gym and spin studio, became obvious. There was also no "wow" factor or sense of intrigue and anticipation upon arrival.
We set out to deliver the customer's needs by designing a space that reflects the gym's membership while injecting new life into the space through a vibrant and dynamic environment. This included installing dynamic lighting that reduced the glare from the existing bright lighting, designing the facility in a way that allows for better use of space and more functional activities and incorporating striking interior design to ultimately help them grow membership numbers.
The goal was to utilise as many of the existing elements as possible to provide a dynamic environment most cost-effectively.
The overriding feedback about the existing gym was that the space was too bright and clinical in appearance, with no personality or USP. So we set out to differentiate "The Edge" from its competitors by proposing a vibrant and contrasting colour palette of orange and grey/black with accents of coloured LED lighting to enhance the space. The main feature is a central 8×4 metre outrace rig, and to maximise the impact of this piece, colour-changing LEDs illuminate the area acting as a zonal marker.
To ensure a smooth customer journey and experience, it was vital to connect different elements of the gym. We did so with a vibrant and energetic yellow corridor with featured LED lights that link the ground floor reception, gym and spin studio. We also installed "Edge" blades of LED lighting along the existing rafts to ensure each part of the gym had a common connection.
Additional mirrors with halo lighting, 45-degree stripes and "light sabre" wall lights complete the interior transformation of the fitness gym and new LED lighting, flooring and large screen projection completed the spin studio overhaul.
For images of the redesign, please see our The Edge Gym case study. For more information, please contact zynk Design Managing Director and Founder, Stavros Theodoulou at 07866556610 or email stavros@zynkdesign.com.