Following the pandemic, many of us are continuing to spend a lot of time at home. In fact, 75% of consumers intend to continue working out from home.
The pandemic has also exacerbated an already growing trend in health and wellbeing, with interest in wellness now being at an all time high.
It's no surprise that wellness real estate (which refers to homes being designed and built to support the wellbeing of residents) is more in demand than ever. There are many benefits to investing in your wellbeing, and we've looked into the impact this can have on your home in our recent blog: Why a high-end home gym will be your best investment in 2021.
If you're considering transforming your property with the inclusion of a luxury home gym, we've listed out the different types of home gym designs to consider.
And you might be wondering how much space you need for a high-end home gym to be able to both exercise and relax. We've listed everything you should consider below.
How much space do you need for a home gym? Here's what you should consider:
1. What your home gym will be used for
Whilst commercial gyms need to include just about everything to accommodate for the hundreds of people using them, the luxury of your home gym is it can be entirely bespoke to your requirements.
If you enjoy using exercise machines to workout, the chances are you'll require a larger floor plan so that your home gym can be breathable. After all, you don't want to pack gym equipment tightly together, as this will also impact the design element of your gym.
In comparison, if you prefer to stick to matwork or free weights, then you typically won't need as much space, but will still need to ensure there is enough room to perform movements safely.
As a rule of thumb, the more pieces of equipment you intend to incorporate, the more room you will need to have a spacious and refined home gym.

2. What is already in your existing space
If you already have an area in your property that you deem suitable for your home gym, then it is important to consider what is already there.
Do you already have large storage space to keep equipment in in order to keep your gym tidy? Is there already a shower room or home spa nearby so you can unwind after your workout?
If not, then do not fear, as space can be transformed by design experts. No matter how much space you have to begin with, it is possible to create a home gym tailored to your vision.
3. The design of your home gym
Since your home gym is inside your personal property, then your desired design can really influence the amount of space you will need.
Whether you want your gym to complement the interior design of your home, or you would prefer a unique space, your home gym should make you feel inspired and motivated.
To do so, you might include stunning lighting fixtures, artwork, mirrors or floor-to-ceiling screens throughout your space. One of the best things about having a home gym is the ability to use equipment as you please – including integrating it with immersive systems.
Virtual reality exercise equipment and accessories are the emerging trends in the home fitness market as they help inspire and motivate individuals to reach fitness goals by adding a sense of energy to the space.
These design elements are completely down to your personal taste and can be incorporated to work with your space, but will ultimately transform the look and feel of your home gym.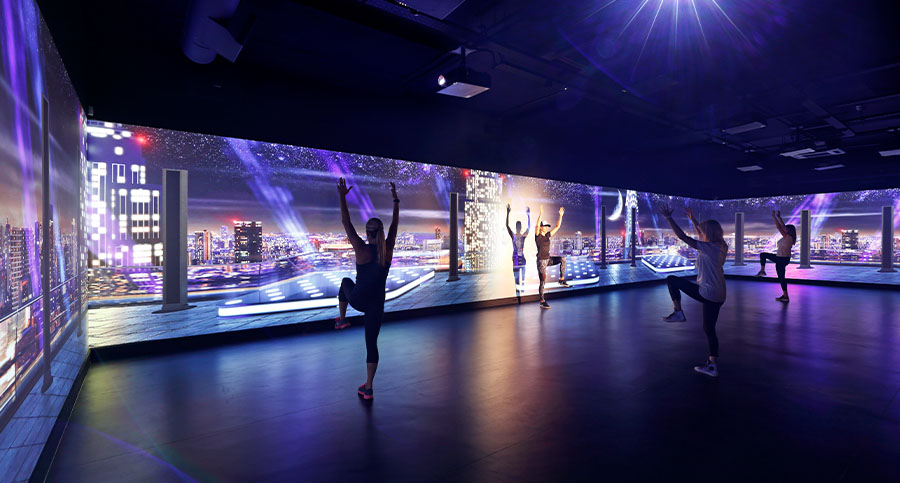 4.Your personal preferences
Finally, and most importantly, the space you will need for your home gym really just comes down to your personal preferences.
You might feel more motivated in a very open space that allows you to move freely and clear your mind. Others might want to divide their space up into different areas, for example a room for free weights and another for yoga.
The bottom line is, there are few limitations when it comes to designing and creating your own home gym. Design experts will take your vision and find a way to make it happen, whether that means working with your existing space or expanding it.
Design and architecture experts at zynk Design
We have over two decades of experience when it comes to designing and creating home gyms throughout Europe and the Middle East. We thoroughly understand how to use space to make your gym work operationally and aesthetically.
We've got crucial relationships with luxury gym and spa equipment suppliers and can facilitate both equipment procurement and specialist finishes.
For more information, take a look at our recent gym design projects and sign up to our newsletter below to receive the latest wellness trends and design updates straight to your inbox.