The Covid-19 pandemic has meant that most of us have had to adapt to spending a lot more time at home than we're used to.
And faced with such great uncertainty, many people have prioritised their health and wellbeing as a way of coping.
As a result, the home has evolved from a place to live to an environment for self-care. This, in turn, has led to an increase in demand for home health and wellness facilities.
A luxury home spa can offer a calming and rejuvenating space to help restore both physical and mental health.
From the colour scheme to materials, there are many spa design elements to consider when creating this desired atmosphere.
1. Use colour to evoke emotion
Choosing a colour scheme is a key part of any home spa design and can be used to evoke specific emotions.
Psychology suggests that some colours can increase anxiety, whilst others can boost your energy levels.
For example, darker colours can be used to create warmth, whilst lighter colours will help open up the room, making it appear more spacious.
Begin by choosing a base colour from the colour wheel and then from there choose a tonal, harmonious or complementary colour scheme.
2. Carefully select your materials
When configuring the overall image for a home spa design, all materials need to be carefully selected.
The use of natural and raw materials can help create a 'barefoot luxury' ambience.
Marble and stone offer a stylish, yet timeless, option, whilst materials such as bamboo and timber can be used to tap into biophilic design.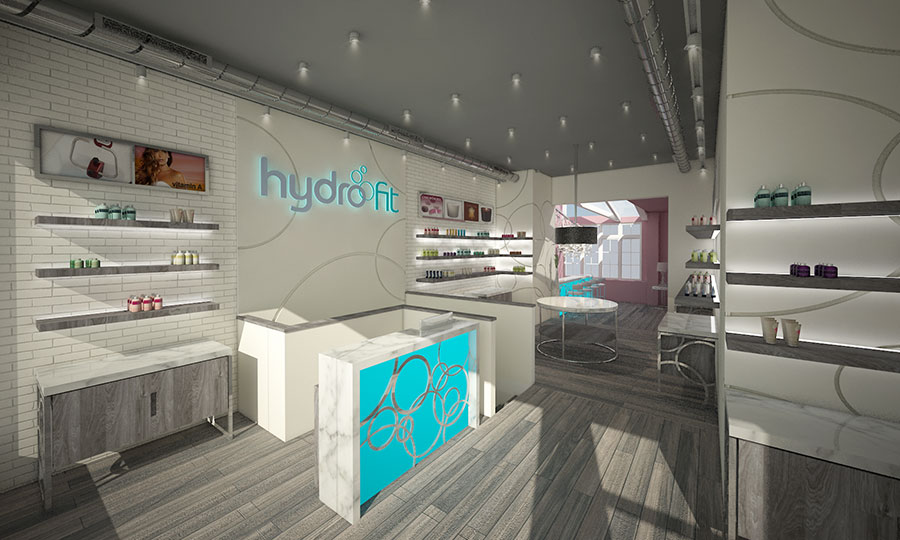 When designing the reception for Hydrofit, we used marble and polished metal to create an upmarket yet approachable feel.
3. Make use of sensory design elements: light, sound and smell
Incorporating sensory design elements in a home spa is an excellent way to improve both physical and psychological wellbeing.
Light: For example, the use of natural lighting can help our bodies produce Vitamin D, regulate sleep patterns and boost mood.
Meanwhile, the option to change the colour of lighting can help to stimulate different emotions.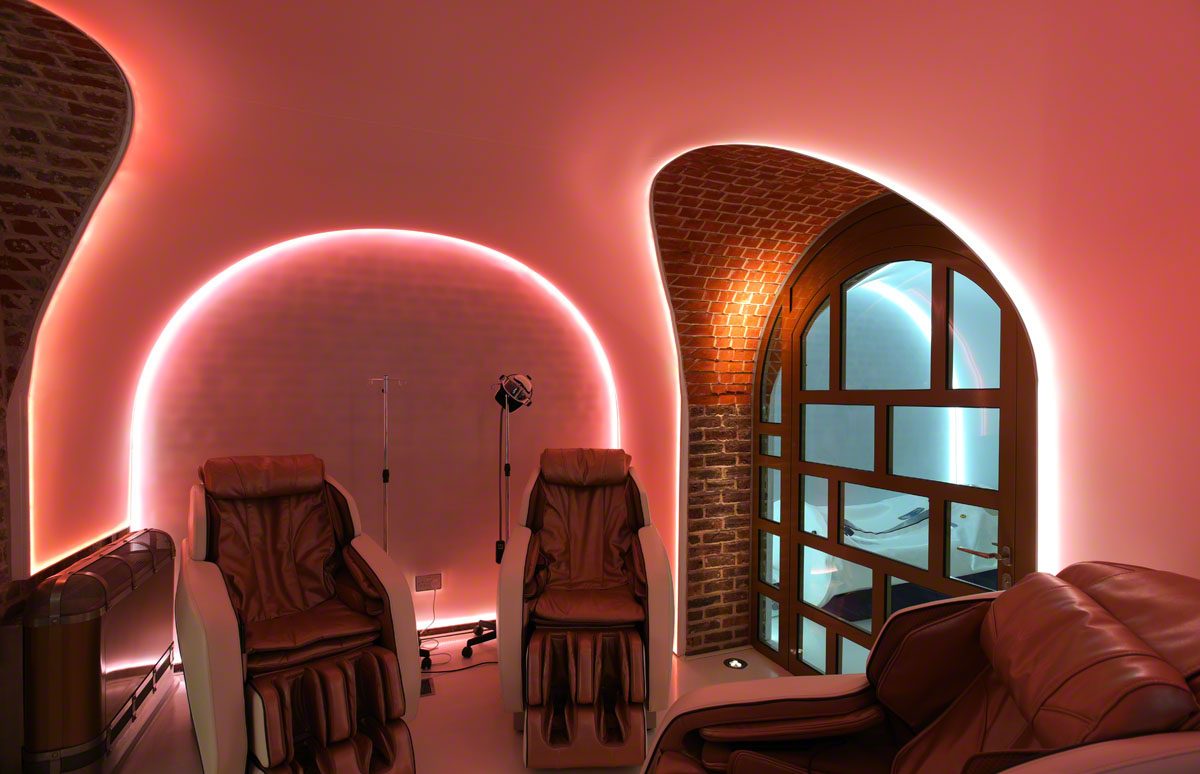 We made use of colour-changing backlights to enhance BelleCell's revolutionary spa experience.
Sound: Natural sounds, such as falling rain or ocean waves, can also be implemented to create a relaxing environment.
Smell: Studies have revealed that specific scents can affect brain activities and cognitive functions. A tranquil fragrance can help create an added sense of luxury in a home spa and promote deeper relaxation.
zynk Design: luxury home spa design specialists
With over two decades of experience in health and wellness, we've had the pleasure of designing a large number of home gyms and spas throughout Europe and the Middle East.
We understand the essential components required for home wellness to work aesthetically, operationally and fit within the living areas of the home.
We also have relationships with key luxury gym and spa equipment specialists and can manage both equipment procurement and specialist finishes as well.
For some inspiration, take a look at some of our previous spa designs or get in touch for an informal chat.