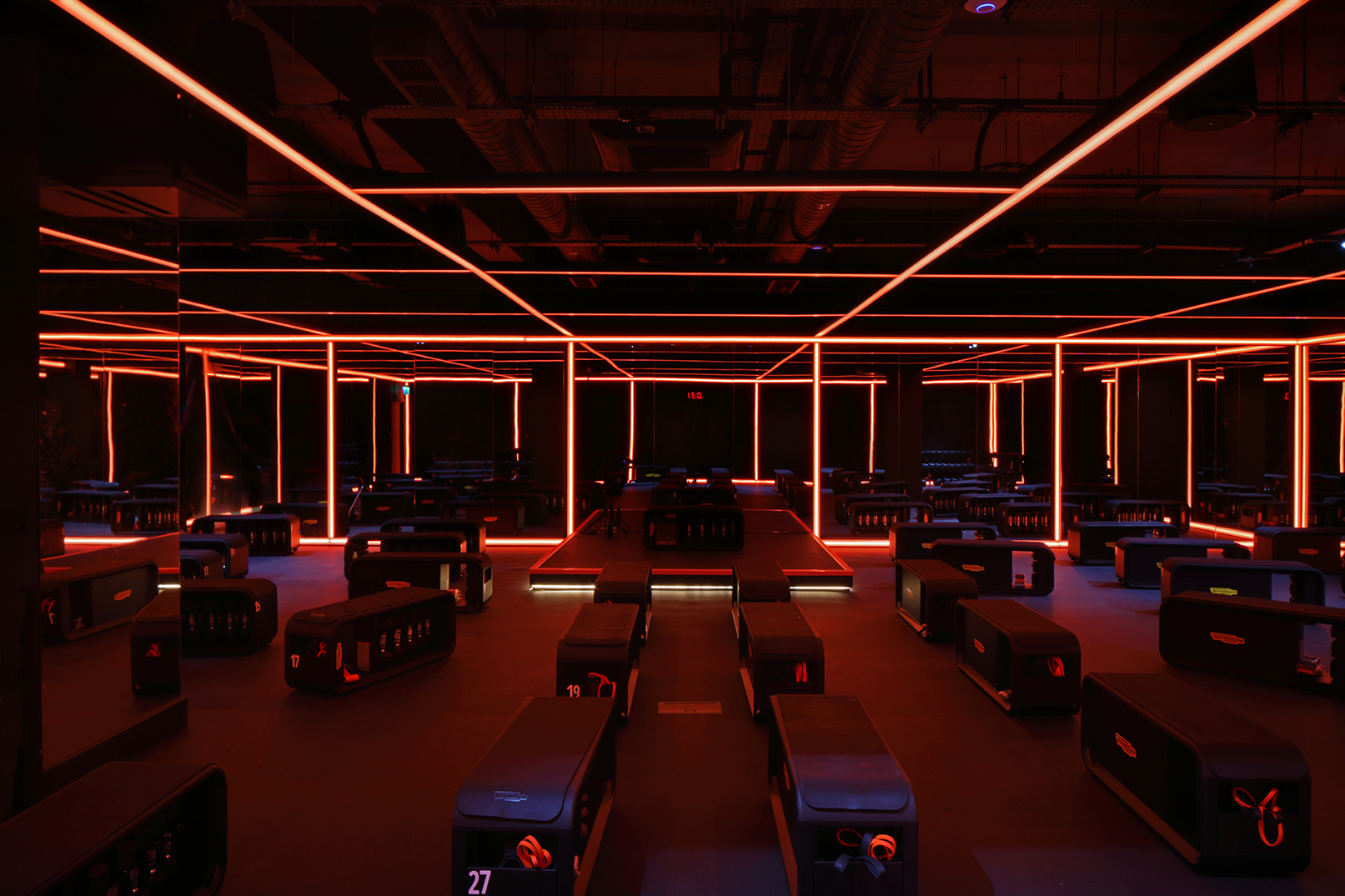 Google 'gym design' and you'll find results for both gym architecture design experts and gym fitness equipment suppliers. Understanding the difference between the two is essential for choosing the right team to bring your vision to life.
Professional gym designers use their expertise to optimise a workout space. They create functional training facilities with visually appealing interior design through intelligent, multi-disciplined design solutions.
In contrast, the role of gym equipment suppliers is to distribute and fit equipment rather than to project manage or help build your brand.
What is the difference between a gym designer and a gym equipment supplier?
Interior architects and gym designers invest time into nurturing your brand throughout the design process to help you to connect with your target audience. They work closely with you to maximise opportunities and mitigate risks, ensuring that every decision is pragmatic, aligns with your vision and fits within your allocated budget.
Don't fall into the trap of thinking you simply need a company that knows how to design gym equipment, because this is just one element of a much grander project.
A gym equipment supplier wouldn't be expected to know how to design a gym layout or assist you in ensuring your customers have a unique and memorable experience. Their main purpose is to provide you with the right equipment.
How do gym designers work?
A look at the zynk Design process
At zynk Design, we have a 6 stage process for our design projects. Here's what you could expect from bringing our team of specialist interior architects and designers on board.
Stage 1: Preparation and brief
The first step involves having a full briefing of the project, ensuring that we gather all the necessary information and plans. Our team will carry out a site visit to gain an understanding of the parameters and structure of the building.
We are then able to devise a bespoke strategy detailing how we'll turn your vision into reality, including an overview of our services, budget, timeline and offer.
Stage 2: Concept design
Our priority in the concept design stage is making sure that our designs align with your company and brand image and reflect your desired outcome.
This is where we get creative, curating mood boards and establishing the style and character of the fitness space and elements. We explore finishes, material, lighting, and gym equipment, to name a few. We use CGI visuals and sample boards to present our design.
Stage 3: Design development
Following the presentation of our design proposal, we welcome your feedback. This is a valuable step, as we then work collaboratively with you to refine our design concepts and CGIs before moving on to the technical design stage.
Stage 4: Technical design
After the final approval of the revised designs, we delve into the technical design work. Here we look at plans for finishes, specialist joinery details, furniture and upholstery, fixtures, fittings, equipment, decorative elements and much more.
We then manage the logistics to have all individual components fitted.
Stage 5: Construction
The stage that most people get excited about, seeing it all come together.
Throughout the construction process, we continue to work closely with all stakeholders. We attend value engineering and site meetings, produce designer risk assessments and manage applications with the authorities.
Stage 6: Handover and closeout
We visit the site for a final inspection and create As-Built drawings and produce a snagging list. Assistance is also provided during the initial occupation period to ensure a smooth handover.
For more information on the individual steps, have a read of our recent blog 'Working with professional gym and wellness designers: everything you need to know.'
zynk Design: luxury gym, health and wellbeing design
We are specialist gym and spa interior architects with over two decades of experience within the health and fitness industry.
Combining our acute understanding of the competitive landscape, with our proven track record for creating successful gym and leisure designs, we effectively help our clients establish a firm footing in the busy health, fitness and wellness market.
We offer interior architecture, graphic design and fitness operation consultancy services to ensure thorough support through every stage of a project – from concept to execution. Regardless of how big or small your project is, we can work with any space and apply creative design solutions that work visually and operationally.
Get some inspiration from our health and fitness designs or book a consultation to discuss your project.