Much has been written about the psychology of colour and its use in our homes and commercial spaces. Although we may not realise it, the colour of our surroundings has a subtle but definite impact on our mood. And if you're designing a well-being space, something such as spa colour needs to be very carefully considered.
When you're thinking about gym design and colour schemes, the options can be much broader, and you can run the gamut from luxe neutrals to zesty neons. Spa colour palettes, however, tend to be a little more restricted.
But that's not to say you don't have a choice. In fact, you may even be surprised at what can work when it comes to choosing paint colours for your spa.
Whether you're creating a luxurious spa at home or you're responsible for leading a commercial project in your hotel or wellness facility, one of the biggest decisions you'll need to make is to decide on your spa colour palette.
Here we'll take a look at some spa colours you might like to consider using to create the ultimate experience in relaxing spaces.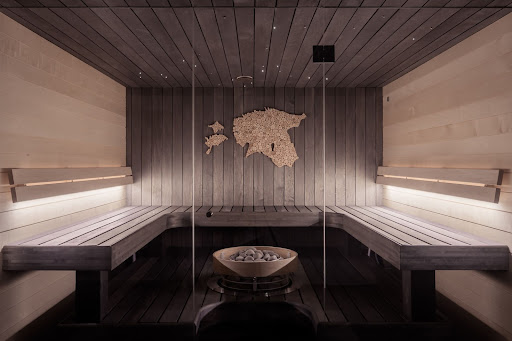 The most relaxing spa colour palettes
When most people think of spa paint colours, they tend to think of light blues and greens. And there's absolutely nothing wrong with that. These colours are most frequently associated with spas as they're relaxing and calming.
And this isn't just wishy-washy speculation. Scientific research shows that cooler colours – such as pale greens and blues – have shorter wavelengths, making them more relaxing for our eyes to look at. For example, violet has the shortest wavelengths of all colours, whilst red has the longest.
This clearly illustrates which direction you probably want to go in when picking a spa colour. A violet-coloured spa? Relaxing. A bright red spa? Not so much!
5 Spa paint colours to create a calming environment
– Pale blue
We'll start with one of the most obvious spa colours; blue, specifically pale or light blue. Research has shown that exposure to blue light can help lower blood pressure and heart rate.
So if blue really does have all these 'magical properties', surely it has to be a contender when choosing paint colours for your spa design!
However, be careful not to go too dark. Think powder or baby blue, blue-grey, sky blue, aqua or even Tiffany or duck egg blue.
– Pale green
Our other top spa colour on the list is light green. Like blue, the soothing effects of this hue make it a perfect choice for spa colour design. Similar to the use of blue light in treating high blood pressure and heart rates, green light therapy is also touted as a way to relieve migraines.
This is another indicator that a soft or gentle green colour palette in your spa could be a wonderful way to create that chilled-out vibe you're looking for.
As with blue, keep it light. Shades of green that work well as spa paint colours include mint, pistachio, light olive, aquamarine and sage. Colours that are reminiscent of growth and the natural world.
– Pale pink
A pretty choice if you're perhaps looking for a typically more feminine spa colour palette. There's a reason pale pink is often also referred to as baby pink, and that's because it's a popular colour for nurseries as it has a calming effect on babies.
And the same goes for adults too with light pink even being used in some prisons as it's been shown to soothe aggressive behaviour. Clearly this is not something you'll need to worry about in your home or hotel wellness design, but it does demonstrate that pink is indeed a relaxing colour for a spa!
Shades of pale pink include dusty rose, salmon, peach, orchid pink, candy floss, ballet slipper pink, rose gold and blush.
– White
Now you may argue that white is too clinical to create a truly relaxing spa colour palette, and you should exercise a little caution if you're thinking of going in this direction. We'd argue, however, that white, with its connotations of cleanliness and purity, is a good choice if this is your overall aesthetic.
White, as a spa colour, is also a good option if you're renovating your hotel spa and you don't want to replace all of your furniture, fittings and fixtures, as it will go with anything.
Choose white spa paint colours that will create layers of interest and add a touch of warmth, such as alabaster, off-white, vanilla, bone white, ivory, antique lace and cream.
Neutrals and light brown
Granted, brown is probably not a colour that springs to mind when you're thinking of a colour palette for your spa design, but hear us out. It might be a slightly more unusual choice, but shades of brown can be grounding and warm.
If you're looking to create a more earthy feeling in your wellness facility, shades from the lighter side of the brown family would work very nicely.
Consider beige, tan, camel, wheat, almond, sand, oatmeal, taupe, biscuit, ecru, terracotta, cappuccino and latte.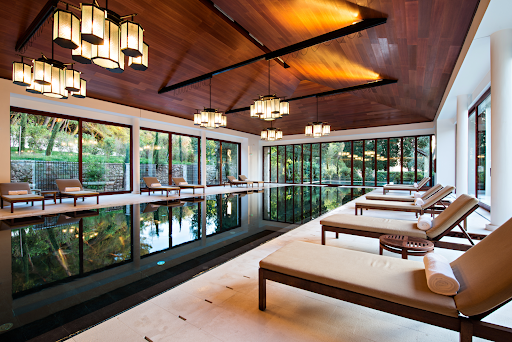 Additional tips for choosing spa colours
Of course, when you work with a professional hotel spa designer, such as the team here at zynk Design, we will be able to advise you when it comes to the right spa paint colours for your space. But here are a couple of other pointers to keep in mind.
We suggest picking one or two colours from the same family and using them as your primary palette. You may also like to team your base colours with a contrasting hue to create depth and draw the eye to different areas of the room.
For example, shades of blue work well with cream and ivory, and even rose or peach. If you're opting for a pink spa colour scheme, you might like to add accents of grey or a slightly darker blue to create a more 'grown-up' effect.
Neutrals, meanwhile, may benefit from a pop of colour, such as pale green or light pink.
Picking the perfect spa colour with zynk Design
At zynk design, we know what makes a spa really work. We know the all-too-common mistakes that must be avoided when designing a spa, and we know exactly what elevates a 'nice' wellness space into a truly luxurious one.
Whether you need help selecting the right spa paint colours for your project and would like some friendly advice, or you're just dipping your toes into the idea of creating a designer spa in your home or hotel, we're the experts to talk to.
Take a look at some of our previous hotel and spa designs and get in touch with us today if you'd like to discuss your project.