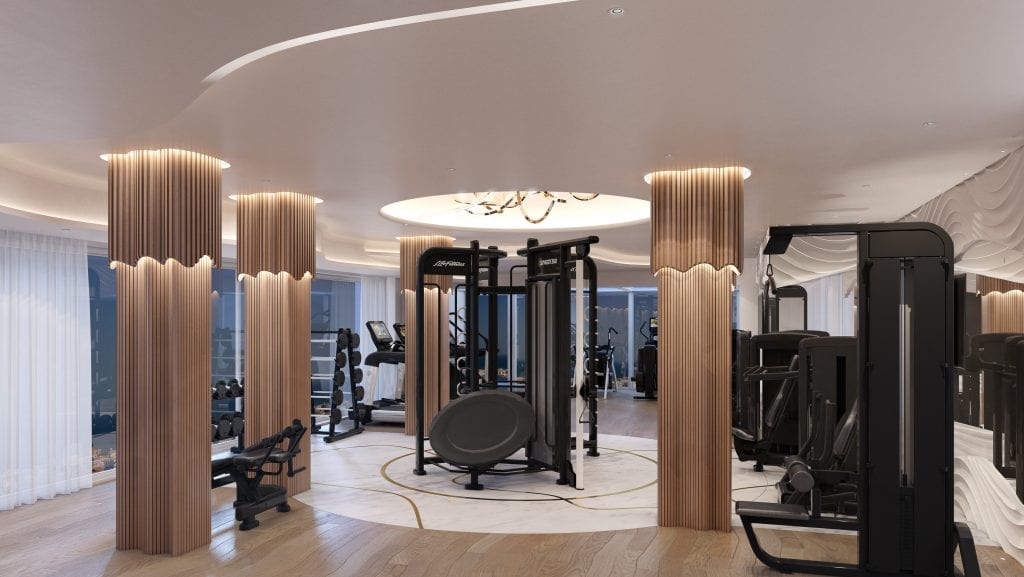 2020 has changed the way we live, and individuals are more conscious of their health and wellbeing than ever before. Keeping up regular, daily exercise plays an important role in helping to maintain a healthy immune system.
And with current pandemic health and safety regulations making it difficult for gyms to adhere to strict cleanliness guidelines, more and more people are opting for a home gym.
Different types of luxury home gym designs ideas
Home gym designs differ depending on the type of workouts preferred. As experts in luxury gym and spa design, we're well versed in best practice tips for each type of home gym which we've listed below:
The functional workout space is ideal for individuals accustomed to exercise using both free weights and their own body weight.

From a gym layout perspective, it's important to design a functional gym in a way that ensures enough free space to perform the movements safely. Adding specific flooring that reduces the impact of high-energy workouts and makes exercises more comfortable will make a big difference.

We also recommend integrating virtual systems to allow for a defined audio and visual set up. Not only will it provide access to online workout programmes, it also adds a sense of energy to the space.
The wellbeing space is recommended for individuals that prefer activities like yoga and flexibility training.

This home gym design should include good storage options to ensure equipment, such as yoga mats, bolsters and blocks, are kept clear from the workout area. Muted palettes and natural lighting will help create the calming atmosphere required for wellbeing workouts.

Ideal for individuals that prefer cardio, resistance and free weights training, the home gym workout room is a more traditional gym set up.

We advise using a flooring that can take the impact of potential heavy weights being dropped and not cause any major acoustic issues. Having enough space to ensure the activity can be done in a safe manner is important. The lighting should be dynamic and good mirror placement will help improve the ambience.

Some home gym equipment, such as Lat Pull Down Machines and Power Racks, can be relatively tall so ensuring the ceiling is high enough is crucial.
The 'think out of the box' space

Depending on personal interests, home wellness and gym ideas can also be less conventional. From a steam and sauna room to a golf simulator, as long as the overall house design allows for it, the opportunities are endless.

With interest in wellness being at an all time high, we're seeing more and more demand for home spas. For example, thermal heat experiences like halotherapy, which involves breathing in salty air for the added health benefits, can be incorporated in a home spa through a salt-steam room or salt-cave.

zynk Design: contemporary home gym designers
We're specialist gym and spa interior architects, and with over two decades of experience, we thoroughly understand the essential components required for home wellness to work aesthetically, operationally and fit in with the living areas in a home.

We've had the pleasure of designing a large number of commercial and home gyms throughout the UK, Europe and the Middle East.

We utilise the latest design and visualisation software to convey our designs, have relationships with key luxury gym and spa equipment suppliers and can manage both equipment procurement and specialist finishes as well.

For more information, have a look at some of our recent gym design projects.