On the zynk blog, we talk quite a lot about the design of your gym, spa or other fitness facilities. But here we'd like to take a slightly different approach and look, not at the workout or wellness space itself, but at the area that creates the first impression for your visitors: it's time to talk about gym reception interior design.
So what makes for a good gym reception design? Better yet, what makes for a truly excellent gym reception design?
Cliche, but true, first impressions last; so you want your gym reception to have a positive impact on your members or guests from the very second they walk through the door.
Why should you care about your gym reception's interior design?
People make the decision to join a certain gym for many reasons. The close proximity to home or work is a big deciding factor. But so too is the facility itself. Most people shop around before committing to a membership and will visit a few potential contenders.
And if someone is considering taking out a contract with you, poor gym reception interior design could influence whether they sign on the dotted line or not.
Even if you're a corporate wellness facility and you're providing this amazing perk to employees, don't you want your entire gym, not just the cardio and weights zones, to represent your organisation in the best way possible?
The same goes for hotel gyms and spa facilities. The primary factor for a guest staying at your hotel is probably not going to be the gym. It's a nice, even important, perk to have, but will it affect someone's decision to stay with you?
Maybe not. But if a guest is using your gym, don't you want them to enjoy the experience from the moment they set foot in it – including the gym reception?
And surely you want them to revisit you. After all, a great all-around experience – as well as wellness facilities – have been shown to increase customer retention.
So now we know why you should care about the interior design of your gym's reception, but how do you make it exceptional?
Exceptional gym reception design
A reception area, whether in a gym or an office, is all about making people feel welcome. The clue is in the word reception, after all.
You also want to ensure it looks (and is!) clean and has an impact. People are here to work out and want to feel energised and motivated and your gym reception design needs to reflect that.
Crucially, it should be an extension of your brand too. You want to maintain your colour palette and branding throughout otherwise there will be a huge disconnect between the reception area and the gym itself.
For example, if your vibe is pumping techno music and zingy neon colours, a muted gym reception interior design theme is just going to be jarring. People don't want to walk into a zen-inspired space only to then be hit with loud beats and bright lights.
Similarly, if your gym errs more towards luxury and a calmer ambience, you won't want a design for your gym reception that is akin to walking into a nightclub in Ibiza.
Also, don't overlook the essentials: this is an area that sees a lot of foot traffic so the materials used, whether in the flooring or furniture, should be easy to keep clean and be able to withstand high footfall.
Gym reception design ideas
We've put together a few gym reception design ideas to help you get inspired, but of course, don't forget that a professional gym designer – such as the team here at zynk Design – will be able to guide you throughout the conceptual and design processes.
On to the design ideas for gym receptions!
Motivational wall slogans
Whether you have a gym slogan or motto of your own or there's a particular phrase that speaks to you and works well with your brand, a motivating wall slogan is a good way to greet people as they sign in.
A few ideas: Make Yourself Stronger Than Your Excuses, Results Not Promises, Transform Your Body and Transform Your Life. The list is virtually endless!
Energising colours
Strong, bright colours tend to make us feel more awake, more alert and more energised. Think bright red, turquoise blue, lime green, bright yellow and, of course, neons.
However, tread carefully and use pops of colour to give punch and create a dramatic effect. Opting for an entire gym reception interior design colour scheme in lime green might be more headache-inducing than motivating!
Feng shui elements
Did you know you can incorporate feng shui elements into your gym design? If this is something that interests you, there are some nice touches you could use in your gym reception design too.
A clean, clutter-free space will help centre guests before they start their workout and diffusing scents such as peppermint into the air could even have a positive impact on performance.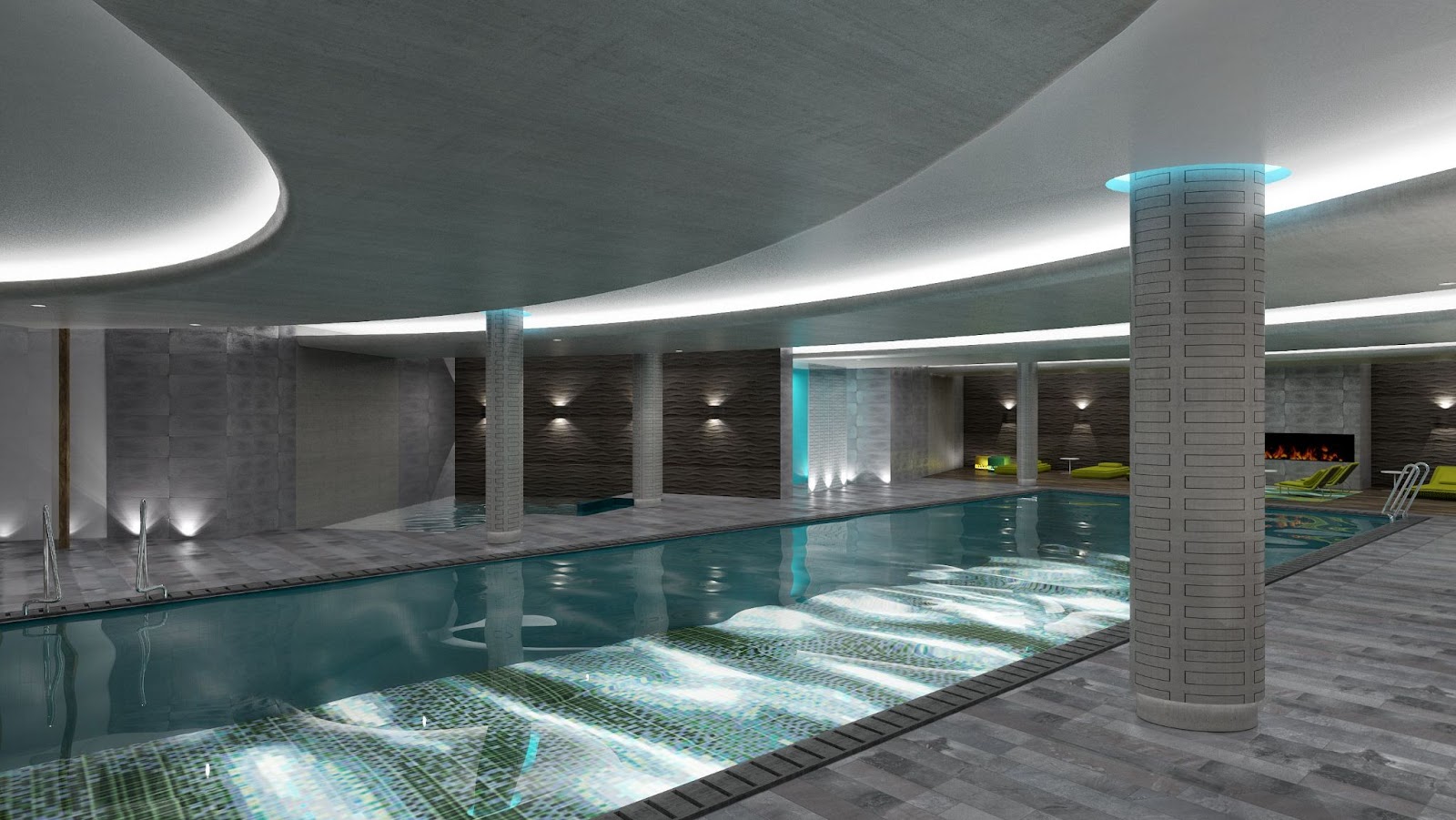 Urban vibes
If you're aiming to attract a mostly younger clientele and you think an urban gym design would work well for your demographic, you want your gym reception design to mirror this too.
Think about using materials that give off those city vibes – such as steel or exposed brickwork. And choose colours that emulate the city streets and bright lights. You could also ask a local graffiti artist to create some custom artwork for a feature wall.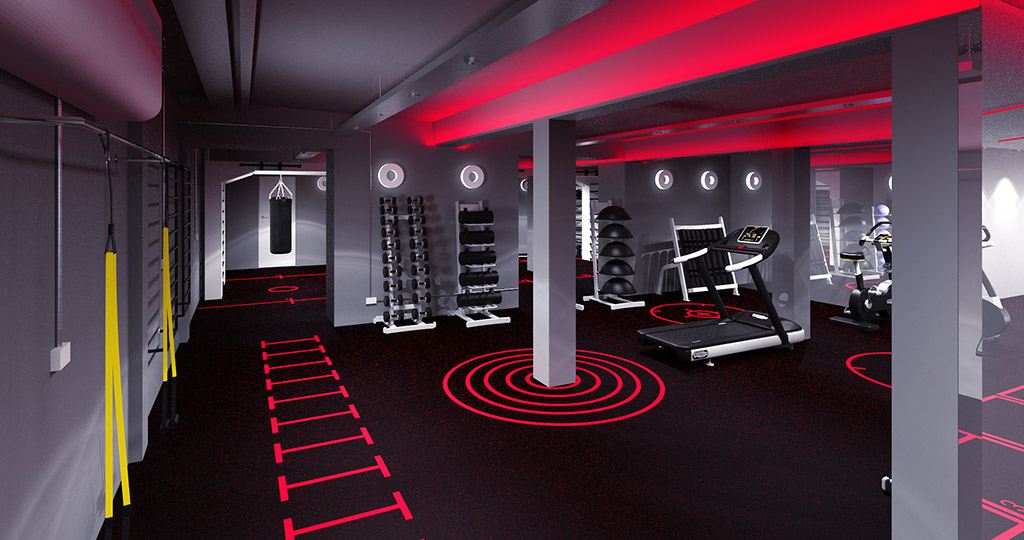 Luxe living
If your facility is a boutique gym or high-end offering, obviously you'll want to steer clear of neon and graffiti! One trend that embodies the luxury gym experience is using sustainable design and finishes.
Using materials such as bamboo, clay finishes, recycled terrazzo and even recycled plastic floors are all beautiful gym reception design ideas that show that you care about the planet just as much as your members.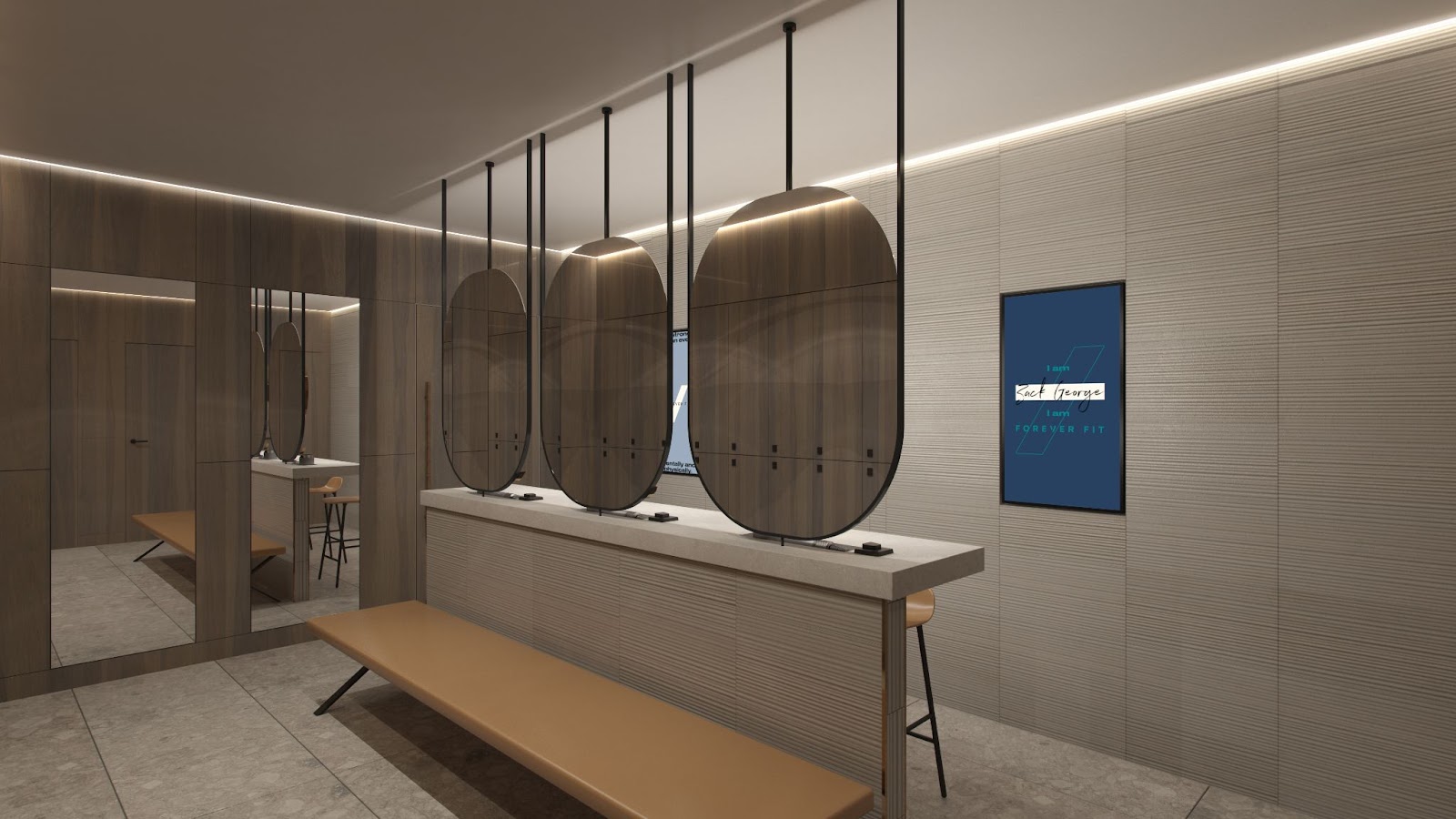 Gym reception interior design at zynk
At zynk we don't just design spaces to work out, practice pilates, or meditate in. We are the whole package – and we can help you design and create your whole package too.
From the main facility to your changing room design to the interior design for your gym reception, we will ensure that your project is completed with a harmonious end result that matches your vision exactly.
Take a look at how we've turned other clients' visions into reality or contact us to discuss your concept. We look forward to talking with you soon.